History of the Stewarts
| Famous Stewarts
If you are a Stewart Society Member please login above to view all of the items in this section. If you want general information on how to research your ancestors and some helpful links - please look in background information.
If you have a specific question you can contact our archivist.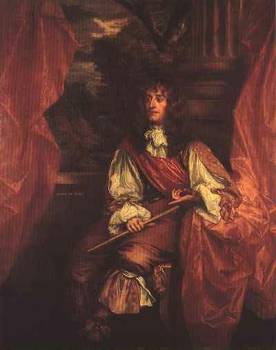 James, the second surviving son of Charles I and Henrietta Maria of France, was born at St. James´s Palace in London on 14 October 1633. James was the younger brother of Charles II. He escaped to the continent during the Civil War and had a distinguished military career in the French and Spanish armies before returning to London at the Restoration.
On 31 December 1660, following his brother´s restoration, James was created Duke of Albany in Scotland, to go along with his English title, Duke of York. On his return to England, James created controversy by announcing his engagement to Anne Hyde, the daughter of Charles´ chief minister, Edward Hyde. In 1659, while trying to seduce her, James promised he would marry Anne. Anne became pregnant in 1660, but following the Restoration and James´s return to power, no one at the royal court expected a prince to marry a commoner, no matter what he had pledged beforehand.[24] Although nearly everyone, including Anne´s father, urged the two not to marry, the couple married secretly, then went through an official marriage ceremony on 3 September 1660 in London. Their first child, Charles, was born less than two months later, but died in infancy, as did five further sons and daughters. Only two daughters survived: Mary (born 30 April 1662) and Anne (born 6 February 1665. Even so, he kept a variety of mistresses, including Arabella Churchill and Catherine Sedley, and was said by Pepys to be the most unguarded ogler of his time. With Catherine Sedley, James II had a daughter, Catherine Darnley ( named because James II was a descendant of Henry Stuart, Lord Darnley). Anne Hyde died in 1671.
In September 1666, his brother Charles put him in charge of firefighting operations in the Great Fire of London, in the absence of action by Lord Mayor Thomas Bloodworth. This was not a political office, but his actions and leadership were noteworthy. "The Duke of York hath won the hearts of the people with his continual and indefatigable pains day and night in helping to quench the Fire", wrote a witness in a letter on 8 September 1666.
James´s time in France had exposed him to the beliefs and ceremonies of Catholicism; he and his wife, Anne, became drawn to that faith. James took Eucharist in the Roman Catholic Church in 1668 or 1669, although his conversion was kept secret for some time and he continued to attend Anglican services until 1676.
Growing fears of Catholic influence at court led the English Parliament to introduce a new Test Act in 1673. Under this Act, all civil and military officials were required to take an oath (in which they were required to disavow the doctrine of transubstantiation and denounce certain practices of the Catholic Church as superstitious and idolatrous) and to receive the Eucharist under the auspices of the Church of England James refused to perform either action, instead choosing to relinquish the post of Lord High Admiral. His conversion to Catholicism was thereby made public.
Charles II opposed the conversion, ordering that James´s daughters, Mary and Anne, be raised as Protestants. Nevertheless, he allowed James to marry the Catholic Mary of Modena, a fifteen-year-old Italian princess James and Mary were married by proxy in a Catholic ceremony on 20 September 1673. On 21 November, Mary arrived in England and Nathaniel Crew, Bishop of Oxford, performed a brief Anglican service that did little more than recognise the Catholic marriage. Many British people, distrustful of Catholicism, regarded the new Duchess of York as an agent of the Pope.
Because of growing disquiet about James´ Roman Catholicism, Charles told him that he must leave England temporarily. After a period of exile in Holland, James went to Scotland as the King´s Lord High Commissioner in 1679 and 1680. He stayed at the Palace of Holyroodhouse in Edinburgh and culture flourished in the capital under the patronage of his vice-regal Court.
In 1683, a plot was uncovered to assassinate Charles and James and spark a republican revolution to re-establish a government of the Cromwellian style. The conspiracy, known as the Rye House Plot, backfired upon its conspirators and provoked a wave of sympathy for the King and James. Several notable Whigs, including the Earl of Essex and the King´s illegitimate son, the Duke of Monmouth, were implicated. Monmouth initially confessed to complicity in the plot, implicating fellow-plotters, but later recanted.[56] Essex committed suicide and Monmouth, along with several others, was obliged to flee into Continental exile. Charles reacted to the plot by increasing repression of Whigs and dissenters. Taking advantage of James´s rebounding popularity, Charles invited him back onto the privy council in 1684. While some in the English Parliament remained wary of the possibility of a Catholic king, the threat of excluding James from the throne had passed.
James inherited the throne on Charles II´s death in 1685.Soon after becoming king, James faced a rebellion in southern England led by his nephew, the Duke of Monmouth, and another rebellion in Scotland led by Archibald Campbell, the Earl of Argyll. Argyll and Monmouth both began their expeditions from Holland, where James´s nephew and son-in-law, William of Orange, had neglected to detain them or put a stop to their recruitment efforts. However both these rebellions were unsuccessful.
.In April 1688, James re-issued the Declaration of Indulgence, subsequently ordering Anglican clergymen to read it in their churches. When seven Bishops, including the Archbishop of Canterbury, submitted a petition requesting the reconsideration of the King´s religious policies, they were arrested and tried for seditious libel. Public alarm increased when Queen Mary gave birth to a Roman Catholic son and heir, James Francis Edward (the Old Pretender) on 10 June of that year. When James´s only possible successors were his two Protestant daughters, Anglicans could see his pro-Catholic policies as a temporary phenomenon, but when the Prince´s birth opened the possibility of a permanent Catholic dynasty, such men had to reconsider their position. Threatened by a Catholic dynasty, several influential Protestants claimed the child was "supposititious" and had been smuggled into the Queen´s bedchamber in a warming pan.They had already entered into negotiations with William, Prince of Orange, when it became known the Queen was pregnant, and the birth of James´s son reinforced their convictions.
On 30 June 1688, a group of seven Protestant nobles invited the Prince of Orange to come to England with an army.By September, it had become clear that William sought to invade.[110] Believing that his own army would be adequate, James refused the assistance of Louis XIV, fearing that the English would oppose French intervention. When William arrived on 5 November 1688, many Protestant officers, including Churchill, defected and joined William, as did James´s own daughter, Princess Anne.James lost his nerve and declined to attack the invading army, despite his army´s numerical superiority. On 11 December, James tried to flee to France, allegedly first throwing the Great Seal of the Realm into the River Thames.He was captured in Kent; later, he was released and placed under Dutch protective guard. Having no desire to make James a martyr, the Prince of Orange let him escape on 23 December. James was received by his cousin and ally, Louis XIV, who offered him a palace and a pension.
William convened a Convention Parliament to decide how to handle James´s flight. While the Parliament refused to depose him, they declared that James, having fled to France and dropped the Great Seal into the Thames, had effectively abdicated the throne, and that the throne had thereby become vacant. To fill this vacancy, James´s daughter Mary was declared Queen; she was to rule jointly with her husband William, who would be king. The Parliament of Scotland on 11 April 1689, declared James to have forfeited the throne. The English Parliament passed a Bill of Rights that denounced James for abusing his power. The abuses charged to James included the suspension of the Test Acts, the prosecution of the Seven Bishops for merely petitioning the crown, the establishment of a standing army, and the imposition of cruel punishments. The Bill also declared that henceforth, no Roman Catholic was permitted to ascend the English throne, nor could any English monarch marry a Roman Catholic.
With the assistance of French troops, James landed in Ireland in March 1689. The Irish Parliament did not follow the example of the English Parliament; it declared that James remained King and passed a massive bill of attainder against those who had rebelled against him. At James´s urging, the Irish Parliament passed an Act for Liberty of Conscience that granted religious freedom to all Roman Catholics and Protestants in Ireland. James worked to build an army in Ireland, but was ultimately defeated at the Battle of the Boyne on 1 July 1690 when William arrived, personally leading an army to defeat James and reassert English control
In France, James was allowed to live in the royal château of Saint-Germain-en-Laye. James´s wife and some of his supporters fled with him, including the Earl of Melfort; most, but not all, were Roman Catholic. In 1692, James´s last child, Louisa Maria Teresa, was born.[129] Some supporters in England attempted to assassinate William III to restore James to the throne in 1696, but the plot failed and the backlash made James´s cause less popular. Louis XIV´s offer to have James elected King of Poland in the same year was rejected, for James feared that acceptance of the Polish crown might (in the minds of the English people) render him incapable of being King of England. After Louis concluded peace with William in 1697, he ceased to offer much in the way of assistance to James.
During his last years, James lived as an austere penitent He wrote a memorandum for his son advising him on how to govern England, specifying that Catholics should possess one Secretary of State, one Commissioner of the Treasury, the Secretary at War, with the majority of the officers in the army.
He died of a brain haemorrhage on 16 September 1701 at Saint-Germain-en-Laye.His body was laid to rest in a coffin at the Chapel of Saint Edmund in the Church of the English Benedictines in the Rue St. Jacques in Paris, with a funeral oration by Henri-Emmanuel de Roquette. James was not buried, but put in one of the side chapels. Lights were kept burning round his coffin until the French Revolution. In 1734, the Archbishop of Paris heard evidence to support James´s canonisation, but nothing came of it. During the French Revolution, James´s tomb was raided.