History of the Stewarts
| Famous Stewarts
If you are a Stewart Society Member please login above to view all of the items in this section. If you want general information on how to research your ancestors and some helpful links - please look in background information.
If you have a specific question you can contact our archivist.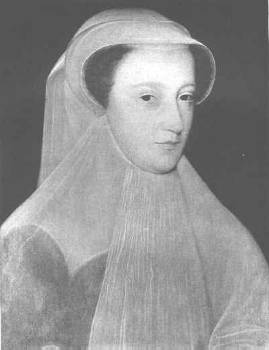 Mary was born at Linlithgow Palace, West Lothian on 8 December 1542 ,Mary, Queen of Scots (8 December 1542 – 8 February 1587) She is also known as Mary Stuart or Mary I of Scotland, was queen regnant of Scotland from 14 December 1542 to 24 July 1567 and queen consort of France from 10 July 1559 to 5 December 1560.
Mary was the only legitimate child of James V to survive him. She was the great-niece of King Henry VIII of England, as her paternal grandmother, Margaret Tudor, was Henry VIII´s sister. On 14 December, six days after her birth, she became Queen of Scots when her father died, perhaps from the effects of a nervous collapse following the Battle of Solway Moss, or from drinking contaminated water while on campaign.
A popular legend, first recorded by John Knox, states that James, hearing on his deathbed that his wife had given birth to a daughter, ruefully exclaimed, "It came with a lass, it will pass with a lass!"[ The House of Stewart had gained the throne of Scotland by the marriage of Marjorie Bruce, daughter of Robert the Bruce, to Walter Stewart, 6th High Steward of Scotland. The Crown had come to his family through a woman, and would be lost from his family through a woman.
As Mary was a baby when she inherited the throne, Scotland was ruled by regents until she became an adult. From the outset, there were two different claims to the Regency: one from Catholic Cardinal Beaton, and the other from the Protestant Earl of Arran, who was next in line to the throne. Beaton´s claim was based on a version of the late king´s will that his opponents dismissed as a forgery.Arran, with the support of his friends and relations, became the regent until 1554 when Mary´s mother managed to remove and succeed him.
King Henry VIII of England took the opportunity of the regency to propose marriage between Mary and his own son, Prince Edward, hoping for a union of Scotland and England. On 1 July 1543, when Mary was six months old, the Treaty of Greenwich was signed, which promised that at the age of ten Mary would marry Edward and move to England, where Henry could oversee her upbringing. The treaty provided that the two countries would remain legally separate and that if the couple should fail to have children the temporary union would dissolve.However, Cardinal Beaton rose to power again and began to push a pro-Catholic pro-French agenda, which angered Henry, who wanted to break the Scottish alliance with France. Beaton wanted to move Mary away from the coast to the safety of Stirling Castle. Regent Arran resisted the move, but backed down when Beaton´s armed supporters gathered at Linlithgow. The Earl of Lennox escorted Mary and her mother to Stirling on 27 July 1543 with 3,500 armed men.Mary was crowned in the castle chapel on 9 September 1543, with "such solemnity as they do use in this country, which is not very costly" according to the report of English ambassadors, Ralph Sadler and Henry Ray.
The Treaty of Greenwich and Mary´s English marriage were rejected by the Parliament of Scotland in December 1543. This prompted Henry´s "Rough Wooing", a military campaign designed to impose the marriage of Mary to his son. English forces mounted a series of raids on Scottish and French territory .In May 1544, the English Earl of Hertford raided Edinburgh, and the Scots took Mary to Dunkeld for safety.
In May 1546, Beaton was murdered by Protestant lairds, and on 10 September 1547, nine months after the death of Henry VIII, the Scots suffered a heavy defeat at the Battle of Pinkie Cleugh. Mary´s guardians, fearful for her safety, sent her to Inchmahome Priory and turned to the French for help.
The French king, Henry II, proposed to unite France and Scotland by marrying the young queen to his three-year-old son, the Dauphin Francis. On the promise of French military help, and a French dukedom for himself, Arran agreed to the marriage. In February 1548, Mary was moved, again for her safety, to Dumbarton Castle. The English left a trail of devastation behind once more and seized the strategic town of Haddington in East Lothian on the 23 February 1548. In June, the French help finally arrived at Leith to besiege and ultimately take Haddington. The English finally evacuated Haddington on 19 September 1549. On 7 July 1548, a Scottish Parliament held at a nunnery near Haddington agreed to a French marriage treaty
With her marriage agreement in place, five-year-old Mary was sent to France to spend the next thirteen years at the French court. She was accompanied by her own court including two illegitimate half-brothers, and the "four Marys", four girls her own age, all named Mary, who were the daughters of some of the noblest families in Scotland: Beaton, Seton, Fleming, and Livingston.[ Janet, Lady Fleming, who was Mary Fleming´s mother and James V´s half-sister, was appointed governess.
Vivacious, beautiful, and clever (according to contemporary accounts), Mary had a promising childhood. While in the French court, she was a favourite with everyone, except Henry II´s wife Catherine de´ Medici. Mary learned to play lute and virginals, was competent in prose, poetry, horsemanship, falconry and needlework, and was taught French, Italian, Latin, Spanish, and Greek, in addition to speaking her native Scots
After the death of Henry VIII´s elder daughter, Queen Mary I of England, in November 1558, she was succeeded by her only surviving sibling, Elizabeth I. Under the Third Succession Act, passed in 1543 by the Parliament of England, Elizabeth was recognised as her sister´s heir, and Henry VIII´s last will and testament had excluded the Stuarts from succeeding to the English throne. Yet, in the eyes of many Catholics, Elizabeth was illegitimate, and Mary Stuart, as the senior descendant of Henry VIII´s elder sister, was the rightful queen of England. Henry II of France proclaimed his eldest son and his daughter-in-law king and queen of England, and in France the royal arms of England were quartered with those of Francis and Mary.Mary´s claim to the English throne was a perennial sticking point between her and Elizabeth I.
When Henry II died on 10 July 1559 from injuries sustained in a joust, fifteen-year-old Francois became King of France, with Mary, aged sixteen, as his queen consort.
However Francois died on 5 December 1560 and Mary was grief-stricken. Her mother-in-law, Catherine de´ Medici, became regent for the late king´s ten-year-old brother Charles IX, who inherited the French throne. Mary returned to Scotland nine months after her husband´s death, arriving in Leith on 19 August 1561. Mary had lived in France since the age of five, and had little direct experience of the dangerous and complex political situation in Scotland. As a devout Catholic, she was regarded with suspicion by many of her subjects, as well as by Elizabeth, her father´s cousin.
To the disappointment of the Catholic party in Scotland, however, Mary tolerated the newly established Protestant ascendancy, and kept her half-brother Lord Moray as her chief advisor Her privy council of 16 men, appointed on 6 September 1561, retained those who already held the offices of state and was dominated by the Protestant leaders from the reformation crisis of 1559–1560: the Earls of Argyll, Glencairn, and Moray. Only four of the councillors were Catholic: the Earls of Atholl, Erroll, Montrose, and Huntly, who was Lord Chancellor.
At first Mary ruled successfully and with moderation, advised by Lord James and William Maitland of Lethington, a subtle diplomat. However, her marriage in 1565 to her second cousin Henry, Lord Darnley (great-grandson of Henry VII) initiated a tragic series of events made worse by factious Scottish nobles. Mary´s marriage to a leading Catholic mean that Mary´s half-brother, the Earl of Moray, joined with other Protestant lords, including Lords Argyll and Glencairn, in open rebellion. Mary set out from Edinburgh on 26 August 1565 to confront them, and on the 30th Moray entered Edinburgh, but left soon afterward having failed to take the castle. Mary returned to Edinburgh the following month to raise more troops.[94] In what became known as the Chaseabout Raid, Mary and her forces and Moray and the rebellious lords roamed around Scotland without ever engaging in direct combat. Mary´s numbers were boosted by the release and restoration to favour of Lord Huntly´s son, and the return of James Hepburn, 4th Earl of Bothwell, from exile in France Unable to muster sufficient support, in October Moray left Scotland for asylum in England
Spoiled and petulant, Darnley demanded the Crown Matrimonial, which would have made him a co-sovereign of Scotland with the right to keep the Scottish throne for himself if he outlived his wife. Mary refused his request, and their marriage grew strained even though she was pregnant by October 1565. He became the tool of Mary´s enemies and, with a group of conspirators, burst into her supper chamber, threatened the heavily pregnant queen and murdered her secretary, David Riccio, on 9 March 1566 inside the Palace of Holyroodhouse.
The birth of Mary and Darnley´s son James that summer did nothing to improve their relationship, and when Darnley was murdered at Kirk o´Field, just outside the walls of Edinburgh on 10 February 1567, people suspected that she was implicated in the crime.
Her subsequent marriage three months later to the Earl of Bothwell (generally believed to be the principal murderer) brought her inevitable ruin. Her Protestant Lords rose against her and her army confronted theirs at Carberry Hill, near Edinburgh, on 15 June 1567. She surrendered, was imprisoned in Lochleven Castle, Kinross-shire and forced to abdicate in favour of her infant son.
Bothwell fled to Denmark, on arrival, he was imprisoned in Dragsholm Castle, where he was supposedly chained to a pillar half his own height, rendering him incapable of standing upright. He was to remain there, crouching in the dark and in his own filth until his death ten years later. His body had became overgrown with hair. Bothwell´s mummified corpse was later put on display in the crypt at Faarevejle Church, near Dragsholm. His tomb is still there.
On 2 May 1568, Mary escaped from Loch Leven with the aid of George Douglas, brother of Sir William Douglas, the castle´s owner. She managed to raise an army of 6000 men, and met Moray´s smaller forces at the Battle of Langside on 13 May.She was defeated and fled south;
Mary apparently expected Elizabeth to help her regain her throne.Elizabeth was cautious, and ordered an inquiry into the conduct of the confederate lords and the question of whether Mary was guilty of the murder of Darnley.Mary was moved by the English authorities to Bolton Castle in mid-July 1568, because it was further from the Scottish border but not too close to London.[147] A commission of inquiry, or conference as it was known, was held in York and later Westminster between October 1568 and January 1569. In Scotland, her supporters fought a civil war against Regent Moray and his successors
Mary refused to acknowledge the power of any court to try her, since she was an anointed queen, and refused to attend the inquiry at York personally (she sent representatives) but Elizabeth forbade her attendance anyway. As evidence against Mary, Moray presented the so-called casket letters—eight unsigned letters purportedly from Mary to Bothwell, two marriage contracts and a love sonnet or sonnets said to have been found in a silver-gilt casket just less than one foot (30 cm) long, decorated with the monogram of King Francis II. Mary denied writing them, argued that her handwriting was not difficult to imitate, and insisted they were forgeries. They are widely believed to be crucial as to whether Mary shares the guilt for Darnley´s murder.The chair of the commission of inquiry, the Duke of Norfolk, described them as horrible letters and diverse fond ballads, and sent copies to Elizabeth, saying that if they were genuine they might prove Mary´s guilt.
The authenticity of the casket letters has been the source of a great deal of controversy among historians. It is impossible now to prove either way. The originals, written in French, were probably destroyed in 1584 by Mary´s son. The surviving copies, in French or translated into English, do not form a complete set. There are incomplete printed transcriptions in English, Scots, French and Latin from the 1570s.
The focus of a long series of Roman Catholic plots against Elizabeth, culminating in the Babington Plot to assassinate the English queen, led to Elizabeth´s ministers demanding Mary´s execution: ´so long as there is life in her, there is hope; so as they live in hope, we live in fear´.
Mary was finally executed at Fotheringhay Castle in Northamptonshire on 8 February 1587, at the age of 44. Her last words were, "In manus tuas, Domine, commendo spiritum meum" ("Into thy hands, O Lord, I commend my spirit").
She was buried in Peterborough Cathedral, but in 1612 her son James VI and I had her body exhumed and placed in the vault of King Henry VII´s Chapel in Westminster Abbey.