History of the Stewarts
| Famous Stewarts
If you are a Stewart Society Member please login above to view all of the items in this section. If you want general information on how to research your ancestors and some helpful links - please look in background information.
If you have a specific question you can contact our archivist.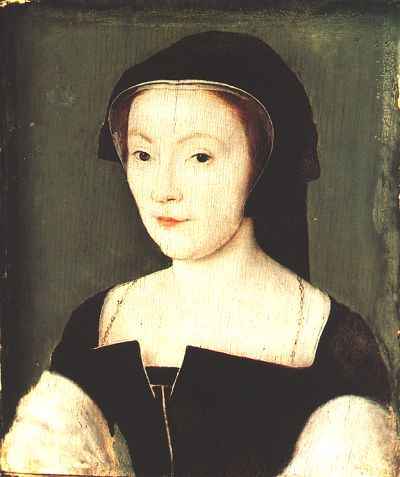 Mary of Guise (French: Marie; 22 November 1515 – 11 June 1560) was queen of Scotland as the second spouse of King James V. She was the mother of Mary, Queen of Scots, and served as regent of Scotland in her daughter´s name from 1554 to 1560. A native of Lorraine, she was a member of the powerful House of Guise, which played a prominent role in 16th-century French politics.
On 4 August 1534, at the age of 18, she became Duchess of Longueville by marrying Louis II d´Orléans, Duke of Longueville (born 1510), at the Château du Louvre. Their union turned out to be happy, but brief. On 30 October 1535, Mary gave birth to her first son, Francis, but on 9 June 1537, Louis died at Rouen and left her a widow at the age of 21. For the rest of her life, Mary kept the last letter from her bon mari et ami (her good husband and friend Louis), which mentioned his illness and explained his absence at Rouen. It can still be seen at the National Library of Scotland. On 4 August, Mary gave birth to their second son, who was named Louis after his deceased father.
Later in 1537, Mary became the focus of marriage negotiations with James V of Scotland, who had lost his first wife, Madeleine of Valois, due to tuberculosis, and wanted a second French bride to further the interests of the Franco-Scottish alliance against England. The recently widowed Henry VIII of England, in attempts to prevent this union, also asked for Mary´s hand. Given Henry´s marital history – banishing his first wife and beheading the second – Mary refused the offer.
King Francis I of France accepted James´s proposal over Henry´s and conveyed his wishes to Mary´s father. Francis had a marriage contract prepared that offered James a dowry as large as if Mary were a princess.
The marriage contract was finalized in January 1538 with a dowry including that of her first marriage. As was customary, if the king died first, the queen dowager would have for her lifetime her jointure houses of Falkland Palace, Stirling Castle, Dingwall Castle, and Threave, with the rentals of the corresponding Earldoms and Lordships.[13] Finally, Mary accepted the offer and hurried plans for departure.
On 18 May 1538, at Notre-Dame de Paris, James V and Mary of Guise were married with Lord Maxwell acting as proxy. Accompanied by a fleet of ships sent by James, Mary left France in June, forced to leave her little son behind. She landed in Fife on 10 June and was formally received by James. They were married in person a few days later at St Andrews. She was crowned queen at Holyrood Abbey on 22 February 1540. A salute of 30 guns was fired from David´s Tower on Edinburgh Castle, and there were fireworks devised by James and made by his royal gunners.[17]
James and Mary had two sons. James Stewart, Duke of Rothesay, was born 22 May 1540 at St Andrews. Robert was born and baptised on 12 April 1541, but both died on 21 April 1541, when James was nearly one year old and Robert was eight days old.The third and last child of the union was a daughter Mary, who was born on 8 December 1542. King James died six days later, making the infant Mary queen regnant of Scotland.
Upon the death of James V, Mary entered into a familiar political battle as Queen-dowager. In 1544 she got the better of her rivals to become the Regent of Scotland.
She apparently knew well how to associate the exercise of power with splendid court entertainments and amusements, and business and festivity went hand in hand in her Court. Inevitably, intrigue and competition developed over winning her hand.
In general the House of Guise promoted policies against Elizabeth and the Reformation in England and, the Hugenots, in France. Thus religious dimensions were being added to the perennial power struggle between England and Scotland.
Rosalind K. Marshall, Mary of Guise: Queen of Scots, abridged, NMS Publishing, Edinburgh (2001).
Marcus Merriman, The Rough Wooings, Tuckwell (2000)-
Pamela E. Ritchie – Mary of Guise in Scotland, 1548–1560: A Political Study (2002).