History of the Stewarts
| Famous Stewarts
If you are a Stewart Society Member please login above to view all of the items in this section. If you want general information on how to research your ancestors and some helpful links - please look in background information.
If you have a specific question you can contact our archivist.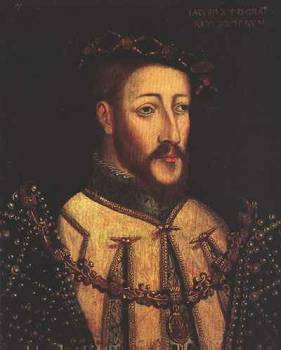 James V (10 April 1512 – 14 December 1542) was King of Scots from 9 September 1513 until his death, which followed the Scottish defeat at the Battle of Solway Moss.
James was son of King James IV of Scotland and his queen Margaret Tudor, a daughter of Henry VII of England, and was the only legitimate child of James IV to survive infancy. He was born on 10 April 1512, at Linlithgow Palace and christened the next day, receiving the titles Duke of Rothesay and Prince and Grand Steward of Scotland. He became king at just seventeen months old when his father was killed at the Battle of Flodden Field on 9 September 1513.
James was crowned in the Chapel Royal at Stirling Castle on 21 September 1513. During his childhood, the country was ruled by regents, first by his mother, until she remarried the following year, and then by John Stewart, 2nd Duke of Albany, who was next in line to the throne after James and his younger brother, the posthumously-born Alexander Stewart, Duke of Ross. Other regents included Robert Maxwell, 5th Lord Maxwell, a member of the Council of Regency who was also bestowed as Regent of Arran, the largest island in the Firth of Clyde.
Queen Margaret´s tempestuous private life complicated her son´s childhood, and after she divorced her second husband, Archibald Douglas 6th Earl of Angus, the Earl kidnapped young James.
For two years he held him captive, showering him with gifts and introducing him to a round of unsuitable pleasures. James loathed his former stepfather, and finally managed to escape in 1528, to rule by himself.
In the autumn of 1524 James dismissed his Regents and was proclaimed an adult ruler by his mother. James´ personal rule began by savagely pursuing his opponents and he hounded the Earl of Angus out of Scotland. James combined suspicion of nobles with a popular touch, travelling anonymously among Scottish people as the ´Gudeman o´Ballengeich´.
John Knox described him thus: ´he was called of some, a good poor man´s king; of others he was termed a murderer of the nobility, and one that had decreed their whole destruction´.
In 1536 he decided to marry. A highly strung, intelligent man who alternated between black depression and bouts of feverish energy, he had already fathered at least nine illegitimate children by a series of mistresses.
He now chose as his wife Princess Madeleine of France, for he was eager to strengthen ´the Auld Alliance´ against England. The Princess was tubercular, and she died in his arms on 7 July 1537, seven weeks after her arrival in Edinburgh.
James increased his income by tightening control over royal estates and from the profits of justice, customs and feudal rights. He also gave his illegitimate sons lucrative benefices, diverting substantial church wealth into his coffers. James spent a large amount of his wealth on building work at Stirling Castle, Falkland Palace, Linlithgow Palace and Holyrood and built up a collection of tapestries from those inherited from his father.
In 1538 he married another French lady, the widowed Mary of Guise, tall, well-built and already the mother of two sons. She had two more sons by James but they both died in infancy within hours of each other in 1541.
The death of James´s mother in 1541 removed any incentive for peace with England, and war broke out. Initially the Scots won a victory at the Battle of Haddon Rig in August 1542. The Imperial ambassador in London, Eustace Chapuys, wrote on 2 October that the Scottish ambassadors ruled out a conciliatory meeting between James and Henry VIII in England until the pregnant Mary of Guise delivered her child. Henry would not accept this condition and mobilised his army against Scotland.
James was with his army at Lauder on 31 October 1542. Although he hoped to invade England, his nobles were reluctant. He returned to Edinburgh on the way writing a letter in French to his wife from Falahill mentioning he had three days of illness.Next month his army suffered a serious defeat at the Battle of Solway Moss. He took ill shortly after this, on 6 December; by some accounts this was a nervous collapse caused by the defeat, although some historians consider that it may just have been an ordinary fever. Whatever the cause of his illness, he was on his deathbed at Falkland Palace when his only surviving legitimate child, a girl, was born. Sir George Douglas of Pittendreich brought the news of the king´s death to Berwick. He said James died at midnight on Thursday 15 December; the king was talking but delirious and spoke no "wise words."
He was buried at Holyrood Abbey alongside his first wife Madeleine and his two sons. The tomb was probably destroyed during the Rough Wooing in 1544.