History of the Stewarts
| Famous Stewarts
If you are a Stewart Society Member please login above to view all of the items in this section. If you want general information on how to research your ancestors and some helpful links - please look in background information.
If you have a specific question you can contact our archivist.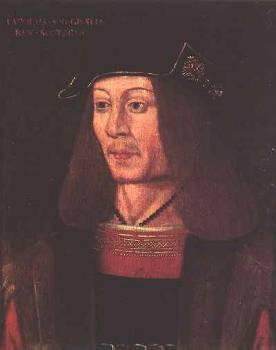 James IV, born on 17 March 1473. By 1486, when James was 13, Prince James' mother had died, and the unstable reign of James' father was unraveling. For unknown reasons, James III began to disregard his elder son, and began favoring his younger son, James Stewart. In January of 1488, James III attempted to gain supporters among the Scottish Lairds by naming James Stewart the Duke of Ross, and elevating four other Lairds to full Lords of Parliament. It is not clear whether he was an active participant in the rebellion against his father or not but Prince James served as the figurehead. The opposition came to a head when Prince James and the Lairds met King James III and his forces at the Battle of Sauchieburn on June 11, 1488. Either in the course of the battle or afterwards, King James III was killed and Prince James became King at the age of sixteen. He was crowned at Scone on June 24th.
Although James was not personally responsible, he did feel very guilty about his father's death. He would wear an iron chain around his waist for the rest of his life and would travel on pilgrimage to St. Ninian's Shrine at Whithorn Cathedral Priory, Dumfries, Galloway and other holy places to do penance. James' minority government lasted from 1488-1495. James learned from his father not to ignore his nobles and to gain their respect and cooperation. There were some initial rebellions, but these were dealt with and after some maneuvering, James' government seemed to enjoy popular support. With this support, his government avoided alienating anyone. While he was old at twenty-two to take on the reins of his government, he had spent the intervening years furthering his already impressive education and gaining valuable lessons in how a royal government worked. For the first time in a century, Scotland had a king who was able to start ruling for himself at once for, as Erasmus once commented, ´He had wonderful powers of mind, an astonishing knowledge of everything, an unconquerable magnanimity and the most abundant generosity.´
He spoke Latin (at that time the international language), French, German, Flemish, Italian, Spanish and some Gaelic, and took an active interest in literature, science and the law, even trying his hand at dentistry and minor surgery.
With his patronage the printing press came to Scotland, and the Royal College of Surgeons in Edinburgh, St Leonard´s College, St Andrews and King´s College, Aberdeen were founded.
He commissioned building work at the royal residences of Linlithgow Palace, Edinburgh Castle and Stirling Castle, and developed a strong navy led by his flagship, the Great Michael, said to be the largest vessel of the time.
Under James´ rule, he extended royal administration to the west and north - by 1493, he had overcome the last independent lord of the Isles. In May 1493 John MacDonald, Lord of the Isles, was forfeited by the Parliament of Scotland. James himself sailed to Dunstaffnage Castle, where the western chiefs made their submissions to him. John surrendered, and was brought back as a pensioner to the royal court, then lived at Paisley Abbey. The Highlands and Islands now fell under direct royal control. John´s grandson Domhnall Dubh (Donald Owre), one of the possible claimants to the Lordship, was peaceable, but the other, his nephew Alexander MacDonald of Lochalsh invaded Ross and was later killed on the island of Oronsay in 1497.
In October 1496 the Royal Council ordered that the clan chiefs in the region would be held responsible by the king for crimes of the islanders. This act for the governance of the region was unworkable, and after the Act of Revocation of 1498 undermined the chiefs´ titles to their lands, resistance to Edinburgh rule was strengthened. James waited at Kilkerran Castle at Campbeltown Loch to regrant the chiefs´ charters in the summer of 1498. Few of the chiefs turned up. At first, Archibald Campbell, 2nd Earl of Argyll was set to fill the power vacuum, and enforce royal authority, but he met with limited success in a struggle with his brother-in-law, Torquil MacLeod of Lewis. Torquil was ordered to hand over Donald Dubh, heir to the lordship of the Isles, to James IV at Inverness in 1501. James waited, but Torquil never came.
After this defiance, Alexander Gordon, 3rd Earl of Huntly, was granted Torquil´s lands. He raised an army in Lochaber, and also cleared the tenants of that area, replacing them with his supporters. After the parliament of 1504, a royal fleet sailed north from Ayr to attack the Castle of Cairn-na-Burgh, west of Mull, where, it is thought, Maclean of Duart had Donald Dubh in his keeping. As progress at the siege was slow, James sent Hans the royal gunner in Robert Barton´s ship and then the Earl of Arran with provisions and more artillery. Cairn-na-Burgh was captured by June 1504 but Donald Dubh remained at liberty] In September 1507, Torquil MacLeod was besieged at Stornoway Castle on Lewis. Donald Dubh was captured and imprisoned for the rest of life, and Torquil MacLeod died in exile in 1511.
To begin with, relations with England were difficult: in 1495, James supported the pretender Perkin Warbeck in his claim to the English throne, and carried out a brief invasion of England on his behalf in September 1496. Then, in August 1497, James laid siege to Norham Castle, using his grandfather´s bombard Mons Meg. Even so, he was anxious to maintain peace with England and concluded a peace treaty in 1502.
After the death of his mistress Margaret Drummond, who was poisoned along with her sisters, presumably to prevent her from marrying the king, James accepted Henry VII´s offer of his daughter Princess Margaret Tudor as a bride. ´The Marriage of the Thistle and the Rose´ took place at Holyrood on 8 August 1503. Although this match had great significance in the long term (after the death of Elizabeth I of England and the end of the Tudor dynasty, the two thrones were inherited by James´ and Margaret´s great-grandson James I and VI), it did not at once improve Anglo-Scottish relations.
James recognised nonetheless that peace between Scotland and England was in the interest of both countries, and established good diplomatic relations with England, which was at that time emerging from a period of civil war. First he ratified the Treaty of Ayton in February 1498. Then, in 1502 James signed the Treaty of Perpetual Peace with Henry VII. He also maintained his relations with France. With rumours that James would renew the Auld alliance, in April 1508 Thomas Wolsey was sent to discuss Henry VII´s concerns over this.
James saw the importance of building a fleet that could provide Scotland with a strong maritime presence. James founded two new dockyards for this purpose and acquired a total of 38 ships for the Royal Scots Navy, including the Margaret, and the carrack Michael or Great Michael. The latter, built at great expense at Newhaven and launched in 1511, was 240 feet (73 m) in length, weighed 1,000 tons and was, at that time, the largest ship in the world.
When Henry VIII joined the Holy Alliance against France, and England invaded France in 1513, James felt that he must assist Scotland´s old ally under the ´Auld Alliance´. He led his army - one of the largest ever to cross the border - south. The English forces, led by Lord Surrey, inflicted a crushing defeat. James and many of his nobles died at the head of his men in the disastrous Battle of Flodden, three miles south-east of Coldstream, Northumberland on 9 September 1513.
A body, thought to be that of James, was recovered from the battlefield and taken to London for burial. James had been excommunicated, and although Henry VIII had obtained a breve from the Pope on 29 November 1513 to have the King buried in consecrated ground at St. Pauls, the embalmed body lay unburied for many years at Sheen Priory in Surrey. The body was lost after the Reformation, which led to the demolition of the priory. John Stow claimed to have seen it, and said the king´s head (with red hair) was removed by a glazier and eventually buried at St Michael Wood Street. The church was later demolished and the site redeveloped many times; it is now occupied by a pub. James´s bloodstained coat was sent to Henry VIII (then on campaign in France) by his queen, Catherine of Aragon.
His early betrothal to Cecily of England came to nothing, but interest in an English marriage remained.
In a ceremony at the altar of Glasgow Cathedral on 10 December 1502, James confirmed the Treaty of Perpetual Peace with Henry VII of England. By this treaty James married Henry´s daughter Margaret Tudor. After a wedding by proxy in London, the marriage was confirmed in person on 8 August 1503 at Holyrood Abbey, Edinburgh. Their wedding was commemorated by the gift of a Book of Hours.
The union produced four children plus two stillbirths:
James, Duke of Rothesay (21 February 1507, Holyrood Palace – 27 February 1508, Stirling Castle)
A stillborn daughter at Holyrood Palace on 15 July 1508.
Arthur, Duke of Rothesay (20 October 1509, Holyrood Palace – Edinburgh Castle, 14 July 1510).
James V (Linlithgow Palace, 10 April 1512 – Falkland Palace, Fife, 14 December 1542), the only one to reach adulthood, and the successor of his father.
A second stillborn daughter at Holyrood Palace in November 1512.
Alexander, Duke of Ross (Stirling Castle, 30 April 1514 – Stirling Castle, 18 December 1515), born after James´s death.
James also had several illegitimate children with four different mistresses; five of the children are known to have reached adulthood:
with Marion Boyd: Alexander (c. 1493 – Battle of Flodden, 9 September 1513), Archbishop of St Andrews.
Catherine Stewart(c. 1495 – 1554), who married James Douglas, 3rd Earl of Morton.
with Margaret Drummond: Margaret Stewart (born around 1497), married first John Gordon, Lord Gordon and second Sir John Drummond.
with Janet Kennedy: James (before 1499–1544), created Earl of Moray.
with Isabel Stewart, daughter of James Stewart, 1st Earl of Buchan: Lady Janet Stewart (17 July 1502 – 20 February 1562).
.