History of the Stewarts
| Famous Stewarts
If you are a Stewart Society Member please login above to view all of the items in this section. If you want general information on how to research your ancestors and some helpful links - please look in background information.
If you have a specific question you can contact our archivist.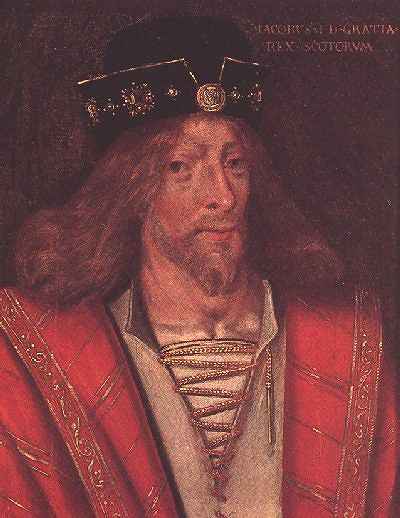 James I, King of Scots (25 July 1394 – 21 February 1437), was the youngest of three sons of King Robert III and Annabella Drummond and was born probably in late July 1394 in Dunfermline Palace. By the time he was eight years old, both of his elder brothers were dead—Robert had died in infancy, and David Stewart, Duke of Rothesay, died suspiciously in Falkland Castle while being detained by his uncle, Robert Stewart, Duke of Albany. Although parliament exonerated Albany, fears for James´s safety grew during the winter of 1405–6 and plans were made to send him to France. In February 1406, James and nobles close to his father clashed with supporters of Archibald, 4th Earl of Douglas, forcing the prince to take refuge on the Bass Rock in the Firth of Forth. He remained there until mid-March, when he boarded a vessel bound for France, but while off the English coast, pirates captured the ship on 22 March and delivered James to Henry IV of England.
He was the "guest" of Henry IV and then Henry V, alternating between the English court and the Tower as his possible use in foreign policy waxed and waned for eighteen years. In 1420-1 he was sent to France to fight against a partly Scots force.
James married Joan Beaufort, daughter of the Earl of Somerset in February 1424 shortly before his release in April when they journeyed to Scotland. It was not altogether a popular re-entry to Scottish affairs, since James had fought on behalf of Henry V and at times against Scottish forces in France. Additionally, his £40,000 ransom meant increased taxes to cover the repayments and the detention of Scottish nobles as collateral. Despite this, James also held qualities that were admired. The contemporary Scotichronicon by Walter Bower described James as excelling at sport and appreciative of literature and music. The king had a strong desire to impose law and order on his subjects, but applied it selectively at times.
To bolster his authority and secure the position of the crown, James launched pre-emptive attacks on some of his nobles beginning in 1425 with his close relatives the Albany Stewarts that resulted in the execution of Duke Murdoch. In 1428 James detained Alexander, Lord of the Isles, while attending a parliament in Inverness. Archibald, 5th Earl of Douglas, was arrested in 1431, followed by George, Earl of March, in 1434
He maintained his distance from England, made the customary small impact on the Highlands, and his daughters largely married the French including his eldest, Margaret. She was married unhappily to the Dauphin, afterwards Louis XI.
It was a source of discontent amongst noble families that, despite raising the necessary taxes, he failed to ransom the hostages held by the Treaty conditions: exactly repeating the conditions of his own exile. In 1436 he had his sole experiment in warfare, by laying seige to Roxburgh only to be called back to settle problems in the heart of his Kingdom.
James was murdered at Perth on the night of 20–1 February 1437 in a failed coup by his uncle and former ally Walter Stewart, Earl of Atholl. Queen Joan, although wounded, escaped to the safety of Edinburgh Castle, where she was reunited with her son James II.
It is said that James charted the course for his successors for 200 years or more. The conspiracy around his death demonstrated the limits of ruthless suppression whilst James V and Charles I did not recognise similar dangers. It fell to James VI to successfully carry out most of the policies designed by James I, though other issues had of course, by then, arisen.