History of the Stewarts
| Famous Stewarts
If you are a Stewart Society Member please login above to view all of the items in this section. If you want general information on how to research your ancestors and some helpful links - please look in background information.
If you have a specific question you can contact our archivist.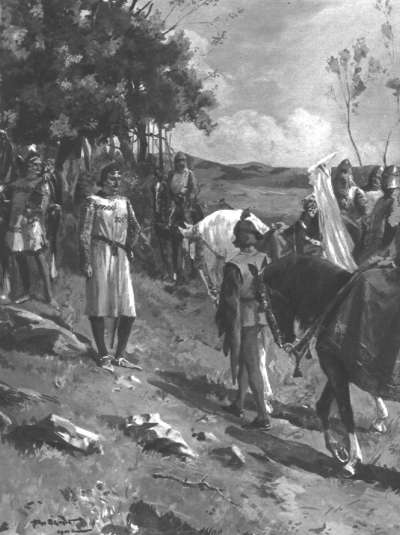 Majorie, being met at the border, by her future husband.
Marjory Bruce, Princess of Scotland, was the only child of the 1st marriage of Robert I, The Bruce. She was born probably in December 1296, the same eventful month that Edward I of England, the self-styled ´Hammer of the Scots´, invaded Scotland and laid siege to Berwick.
At the end of June 1306 the nine year old princess, together with her mother and other women of Bruce´s family, were sent for safety to Kildrummy Castle, Aberdeenshire, escorted by Nigel Bruce and the Earl of Atholl. It was intended that they would then take refuge in Orkney until times were easier, but the English army was already at Aberdeen and the royal ladies moved on to Tain, north of Inverness, where they still hoped for a boat. However they were captured by the Earl of Ross at the pilgrimage site of St. Duthac and he sent them to Edward, and from him to Lanercost Priory in Cumberland.
Queen Elizabeth was placed under house arrest at a manor house in Yorkshire as well as the Tower of London. she was also allowed servants (because Edward I needed the support of her father, the powerful Earl of Ulster, her punishment was lighter than the others); Bruce´s sister Christian was imprisoned at the Ghilbertine nunnery in Lincolnshire; and Marjorie´s aunt Mary Bruce and the Countess of Buchan were imprisoned in wooden cages, exposed to public view, Mary´s cage at Roxburgh Castle and Countess Isabella´s at Berwick Castle. For the next four years, Marjorie, Elizabeth, Christina, Mary and Isabella endured solitary confinement, with daily public humiliation for the latter two. A cage was built for Marjorie at the Tower of London, but Edward I reconsidered and instead sent her to the convent in East Yorkshire. Christopher Seton, Christina´s husband, was executed.
Edward I died on 7 July 1307. He was succeeded by his son, Edward II, who subsequently held Marjorie captive in a convent for about seven more years. She was finally set free around 1314, possibly in exchange for English noblemen captured after the Battle of Bannockburn (23 June – 24 June 1314).
She was not yet eighteen at the time of the battle of Bannockburn on 24 June 1314. One of the heroes of that battle was her second cousin once removed, Walter Stewart, 6th Lord High Steward, four years her senior, whom she married in the following year. They started living in Renfrew..
Princess Marjorie went out riding near Paisley while heavily pregnant on March 2 1316. Her horse, taking fright at something, reared up, Marjorie was thrown violently to the ground and immediately went into premature labour. it used to be thought that Robert was born after this following a caesarean, this however seems unlikely. She was also supposed to have died after his birth but modern scholarship points to her having survived to see her son and possibly for as long as 18 months afterward. She died, still, a very young woman. She is buried at Paisley Abbey - where you can still see her tomb.
Her son, Robert, eventually became king. He was the first of the Stewart line.