History of the Stewarts
| Battles and Historic Events
If you are a Stewart Society Member please login above to view all of the items in this section. If you want general information on how to research your ancestors and some helpful links - please look in background information.
If you have a specific question you can contact our archivist.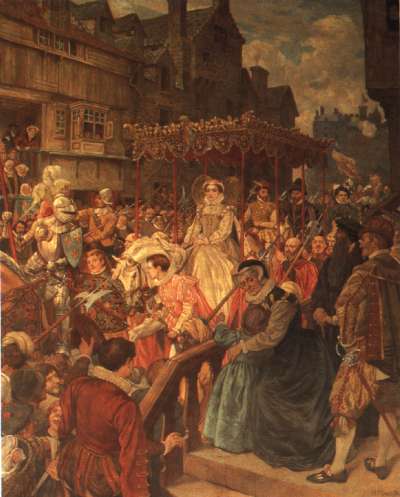 The Arrival of Mary, Queen of Scots to Edinburgh
Francois II of France died on 5 December 1560, of a middle ear infection which led to an abscess in his brain. Mary was grief-stricken. Her mother-in-law, Catherine de´ Medici, became regent for the late king´s ten-year-old brother Charles IX, who inherited the French throne.
Mary returned to Scotland nine months after her husband´s death, arriving in Leith on 19 August 1561.Mary had lived in France since the age of five, and had little direct experience of the dangerous and complex political situation in Scotland. As a devout Catholic, she was regarded with suspicion by many of her subjects, as well as by Elizabeth, her father´s cousin.
Mary landed in Leith; where she remained a whole day, partly because the preparations for her reception at Holyrood Palace were not completed, and partly on account of the bad weather. She was taken round the corner to a local merchant's house, Lamb's House, to rest and wait. This building is still there today but is not generally open to the public although RCAMHs state that they think the house there today is from the early 17th century.
On Mary´s arrival at Holyrood Palace, all the musicians in Edinburgh were said to have assembled in the palace-yard, and, almost under her window and continued the whole night to show their joy at their queen´s return.
However despite the general enthusiasm for her return, Mary had returned to a kingdom that was far from united. Scotland was torn between Catholic and Protestant factions, and Mary´s illegitimate half-brother, the Earl of Moray, was a leader of the Protestants.The Protestant reformer John Knox preached against Mary, condemning her for hearing Mass, dancing, and dressing too elaborately.She summoned him to her presence to remonstrate with him unsuccessfully, and later charged him with treason, but he was acquitted and released