History of the Stewarts
| Battles and Historic Events
If you are a Stewart Society Member please login above to view all of the items in this section. If you want general information on how to research your ancestors and some helpful links - please look in background information.
If you have a specific question you can contact our archivist.
Murdered Musician at the Court of Mary, Queen of Scots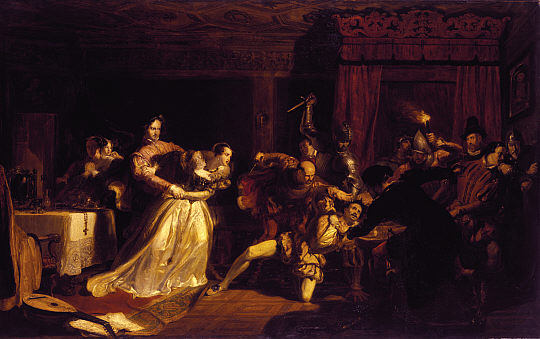 TThe Murder of David Rizzio. Exhibited 1833 (Royal Academy). By Sir William Allan. National Galleries of Scotland.
David Rizzio was born in Pancalieri in Piedmont, northern Italy, about the year 1534, though he is sometimes said to have been older. He came to Scotland in December 1561 as secretary to the Count de Morette, ambassador from the Duke of Savoy, and stayed behind when the embassy departed a month or so later, as musician and part-time secretary, having been recommended to Mary by her uncle, the Cardinal de Lorraine. In 1564 he was appointed the Queen´s French Secretary.
It was partly through Rizzio that Mary met her second husband, Lord Darnley, and Rizzio encouraged her into marriage. Darnley proved to be spoilt, obnoxious and violent. He grew jealous of the attention that Mary paid to Rizzio and, encouraged by a group of Protestant nobles, came to believe that his wife and Rizzio were having an affair. Darnley and the nobles plotted in secret to murder Rizzio. The main plotters against him were Darnley, Morton, Ruthven, Lindsay, Moray, Argyll and Glencairn.
On the 9th of March 1566 Mary, Rizzio and a small group of friends were enjoying a late supper in the small room by the Queen's bedchamber. Darnley suddenly appeared, speaking to Mary as a group of armed nobles made their way to the Queen's chambers. Mary realised immediately that Rizzio's life was in danger and confronted the plotters - 'Leave our presence under pain of treason.' When Ruthven told Darnley to seize his wife a fight broke out. Rizzio hid behind the Queen's dress as her friends and servants struggled with Ruthven.
Rizzio was dragged screaming from the room and murdered in the stairway outside the Queen's chambers. He was stabbed over 50 times before his body was dumped down the stairs. Darnley refused to stab Rizzio but his dagger was left in the body to show his complicity.