History of the Stewarts
| Historical Objects
If you are a Stewart Society Member please login above to view all of the items in this section. If you want general information on how to research your ancestors and some helpful links - please look in background information.
If you have a specific question you can contact our archivist.
Rosary of Mary, Queen of Scots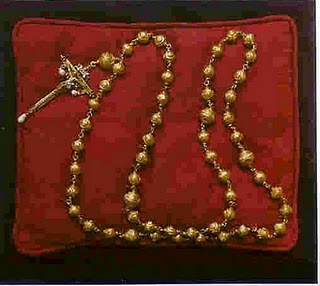 This celebrated relic of Mary, Queen of Scots, was with her on the scaffold and retained by her to within a few moments of her death. It was bequeathed to the Countess of Arundel, from whom it descended to the Howards of Corby and was afterwards obtained by the Duke of Norfolk, whose descendant, the present duke, now owns it.
A rosary is a set of beads used by Catholics to assist in their prayers. The chaplet is divided into five ´decades´ separated by five larger beads or ´gauds´ on which the ´Our Father´ is said, hence the old name for a rosary: ´a pair of paternosters´.
The beads of the queen´s rosary are hollow spheres of gold, wrought with simple patterns and connected by small gold rings. The gauds are larger versions of the smaller beads but appear to have originally had the lines of engraving filled with black enamel.
The cross, which hangs from the chaplet, is also of gold and is of quatrefoil section, delicately chased on the ridges, also originally enamelled in black. From each arm of the cross, as well as from the foot, hangs a large drop pearl, and in each of the four angles is an open flower, once enriched with white enamel. On the cross hangs a gold figure of the crucified Christ with traces of white enamel on his loin-cloth. Above his head is a small tablet, also once white-enamelled, bearing the traditional letters INRI filled in black.
On the back of the cross is the gold figure of the Blessed Virgin Mary, uncrowned, with unbound hair and with a crescent moon under her feet. Her robe was once enamelled in blue. Above her head, and again below her image is a winged cherub´s head, wrought in gold.