History of the Stewarts
| Famous Stewarts
If you are a Stewart Society Member please login above to view all of the items in this section. If you want general information on how to research your ancestors and some helpful links - please look in background information.
If you have a specific question you can contact our archivist.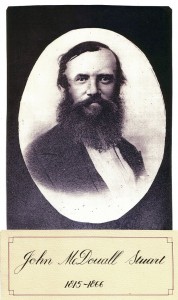 JOHN McDOUALL STUART
SURVEYOR-EXPLORER 1815 – 1866
John was the youngest son of nine children three died in infancy) born to William and Mary née McDouall Stuart on September 7, 1815. William, an ex-Army Captain, moved with his family to Dysart where he was appointed as Customs Officer.
Dysart, a once important commercial port, stands on the northern shore of the Firth of Forth, almost directly opposite Edinburgh. The family lived in possibly the oldest remaining sixteenth century house on the corner of Fitzroy Place (formerly The Coalgate) and Rectory Lane. It was here that John was born. Both parents died when John was in his early teens and he and his brothers and sisters were cared for by relatives and friends. John attended the Scottish Naval and Military Academy and graduated as a Civil Engineer.
Stuart arrived in South Australia on January 21, 1839. Adelaide was then a rough settlement just over two years old – a collection of tents and wooden huts with earth floors and thatched roofs. Thick scrub still covered much of the surveyed area and the majority of the colony's population congregated on the site of the city. This isolated colony on the shore of Gulf St. Vincent was the result of years of work and planning by the Systematic Colonisers, a group of people in England led by Edward Gibbon Wakefield.
At the time of Stuart's arrival, the local administration of the colony was in turmoil. The Surveyor-General, Colonel William Light, who selected the site and surveyed Adelaide, had resigned and would-be land owners were demanding that surveys of their land be completed.
Stuart obtained work, possibly as a draughtsman on the Survey Staff, where resources were stretched to the limit, endeavouring to meet the demands of officials and settlers in the new colony. Life in the survey camps was rough and Stuart soon learnt to recognise the signs and symptoms of scurvy, the disease which devastated him in later years.
Captain Charles Sturt was appointed Surveyor-General in early 1839 and re-established the Survey Department, making conditions and equipment more adequate for his men. In 1842 Stuart was retrenched, possibly due to government down-sizing. He then worked privately as a surveyor and was involved in sheep farming with his ship-mate, James Sinclair, at Nairne in the Mount Lofty Ranges.It is likely he kept in touch with Sturt because, in 1844, he was engaged as draughtsman on Sturt's expedition into the interior of Australia.
This epic journey, which saw Sturt reach a point closer to the centre of the continent than any other recorded European,was Sturt's final expedition, but Stuart gained valuable experience. Following the death of James Poole (Sturt's second-in-command) from scurvy, Stuart was appointed assistant to Sturt. The expedition failed to achieve its main objectives, being repelled by the harshness of Sturt's Stony Desert and the waterless wastes of the Simpson Desert. Both Sturt and Stuart suffered from the effects of scurvy and, on their return to Adelaide, Stuart recorded that he lost the power of his limbs and was laid up for twelve months. Sturt recorded the valuable and cheerful assistance he received from Stuart and commended him for his labour on the charts.
Stuart continued to work as a private surveyor but his experiences with Sturt had influenced his life and he became restless. He preferred the bush environment and was advised by his doctor to reside in the country for the benefit of his health. He moved to Port Lincoln, possibly in 1846, and was involved in private surveys. In 1848 he joined the household of James Sinclair, who had moved into the district. By day he was employed as a shepherd and, at night, gave lessons to the Sinclair children – their only schooling.
In the early 1850's, Stuart left the employment of James Sinclair and accompanied William Finke to the northern Flinders Ranges, a region then largely unexplored. He was engaged to survey pastoral leases, explore and prospect for minerals – an offer he could not resist. This association with Finke and his business partners, James and John Chambers, changed the course of Stuart's life.
In July 1857 – Chambers and Finke began making applications for "Orutunga" run.
An article published in the Gentleman's Magazine in London on 2 May 1866 states that in 1857 Stuart "made an effort to explore the range of country westward of Lake Torrens."
In 1858 Stuart made a second attempt, which was more fortunate.
(W.F. Wheeler, surgeon to A.W. Howitt's party went two times with Stuart. (written by William Russell – Stuart's nephew). In 1858, Stuart embarked upon the first of three expeditions (as leader) in search of new grazing lands, minerals and to survey leases for his sponsors, the Chambers brothers, James and John and William Finke.
1858
•First expedition – May – September 1858.
1859
The second expedition – April – July 1859.
1859-60
The third expedition – October 1859 – January 1860.
Then there followed three successive attempts to cross the continent by Stuart.
1860
The fourth expedition – March – September 1860.
1860-61
The fifth expedition – November 1860 – September 1861.
1861-62
The sixth expedition – October 1861 – December 1862.
James Chambers died August 1862.
On his return Stuart stayed briefly at James Chambers home at North Adelaide, but was staying at the Freemason's Tavern by Christmas.
In 1864, He stayed in London for the publication of Hardman's edition of his journals, and in March presented copies of his expeditions to the Queen and the Prince of Wales.
Stuart presented a paper to the Royal Geographical Society, London, on November 28th.
1866
Stuart died aged 50 years, 5th June 1866 and was buried at the nearby Kensal Green Cemetery
Principally as a result of Stuart's Expeditions
•The riddle of the geographical nature of the centre of Australia was solved.
•The western border of South Australia was moved from the 132 degree east longitude to 129 degree east longitude.
•Control of the Northern Territory was transferred to South Australia.
•The Overland Telegraph Line, linking Adelaide to the world via Darwin, was constructed along his route.
•The original Central Australia Railway (Ghan) from Adelaide to Alice Springs followed a similar route. See article about this in The Stewarts, 2015
•South Australia established settlement on the north coast at Darwin and vast areas of the north were opened up for pastoral and mineral development.
Today, his name is perpetuated by:
•The Stuart Highway linking Adelaide to Darwin.
•Geographical features named in his honour.
•His statue – in Victoria Square, Adelaide, where an annual Remembrance Ceremony is held.
•Memorials and plaques throughout South Australia and the Northern Territory.
•The John McDouall Stuart Collection, housed at the Adelaide Masonic Centre, 254 North Terrace, Adelaide.
•The John McDouall Stuart Museum in Dysart, Kircaldy, Scotland. Open Thursday – Sunday, 1-5 pm.
•The John McDouall Stuart society - link below
.With thanks to the John McDouall Stuart Society