History of the Stewarts
| Famous Stewarts
If you are a Stewart Society Member please login above to view all of the items in this section. If you want general information on how to research your ancestors and some helpful links - please look in background information.
If you have a specific question you can contact our archivist.
Alan Breck Stewart
The real man behind the story of Kidnapped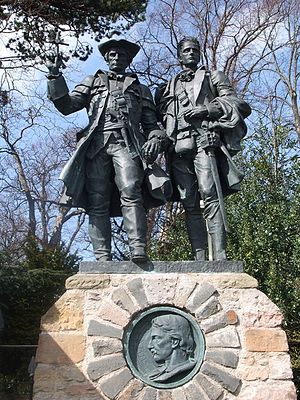 Statue of Alan Stewart (left) and the fictional David Balfour (right), from Kidnapped
Alan Breck Stewart c. 1711 – c. 1791) was a Scottish soldier and Jacobite. He was also a central figure in a murder case that inspired novels by Sir Walter Scott and Robert Louis Stevenson.
In accordance with the fosterage customs of the Highland clans, Alan Stewart and his brothers grew up under the care of their relative James of the Glen in Appin. His nickname, Breck, came from the Gaelic for "spotted", as his face bore scars from smallpox. Stewart enlisted in the British Army of George II in 1745, just before the Jacobite rising of that year. He fought at the Battle of Prestonpans, but deserted to the Highland Jacobites. He subsequently fought for the Jacobites, but after they were defeated at the Battle of Culloden he fled to France, accompanying his commander, Colonel Charles Stewart of Ardshiel. After joining one of the Scottish regiments serving in the French Army, Stewart was sent back to Scotland to collect rents for the exiled clan leaders and to recruit soldiers for the French Crown.
On 14 May 1752 Colin Campbell of Glenure, the royal agent collecting rents from the Ardshiel Stewarts, was murdered. As Alan Stewart had previously publicly threatened Glenure and had enquired about his schedule for the day in question, a warrant was issued for his arrest. However, he evaded capture, and so was tried in absentia and sentenced to death. His foster father, James, was convicted as an accessory to the murder and hanged. Later investigations suggest that the murderer could not have been Stewart at all.
In the murder of Glenure the British government saw the potential danger of Jacobite assassinations of their agents in the Highlands, on the one hand, and also a potential renewal of a Campbell/Stewart feud, on the other. The execution of James of the Glen increased the Stewarts´ discontent, and locally, especially after he was immortalised in fiction, Alan Breck Stewart was portrayed as a romantic figure.
There is no record of what happened to Stewart after the trial. One story from Sir Walter Scott, is that he returned to military service for the French crown and served against the British in North America during the French and Indian War. Another tale, passed down through the Stewart family, is that he fled to Ireland and set up a farm. There are now many Stewart descendants living in Ireland and Northern Ireland.
In the introduction to Rob Roy, published in 1817, Sir Walter Scott tells of the Appin Murder. This account in turn inspired Robert Louis Stevenson to write Kidnapped, published 70 years later in 1886. Scott also claimed that a friend of his had actually met the elderly Stewart in Paris in 1789, just before the French Revolution, in the house of a Scottish Benedictine priest, where people had gathered to view a procession: