History of the Stewarts
| Famous Stewarts
If you are a Stewart Society Member please login above to view all of the items in this section. If you want general information on how to research your ancestors and some helpful links - please look in background information.
If you have a specific question you can contact our archivist.
Appin Regiment
Stewarts of Appin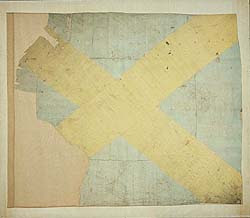 The colours of the Appin Regiment
This Regiment joined the Prince´s Army in August 1745 at Invergarry. It consisted of Stewarts from Achnacone, Ardsheal, Ballachulish, Fasnacloich, Invernahayle and other places in the Appin area. There were also MacColls, MacLarens, Carmichaels, MacIntyres, MacCormacks and Livingstones in the regiment (often considered to be septs or adherents of the Stewarts.)
The regiment was led by Charles Stewart V of Ardsheal, who had been an active Jacobite for some years before the rebellion. For further details - see the Appin Regiment The Stewarts XXiX (1993)
It is possible that MacDonald of Glencoe was the second in command.
In the battles of Prestonpans, Clifton (near Penrith) and Falkirk the regiment played an important role. At Culloden, the Appin Regiment was on the right wing of the Jacobite Army. The brave charge of the men from the right wing (the Appins, the men of Atholl and the Camerons) achieved some initial success under the command of Lord George Murray but the weight of fire from the Government´s superior artillery forced them to retreat eventually.
The regiment consisted of approximately 300 men. Ninety-two men were killed and a further sixty five wounded. Amongst the dead there were 22 Stewarts including Alexander Stewart brother to Achnacone and Alexander Stewart, younger son of Ballachulish.
One of the 25 Stewarts wounded from the Appin Regiment was Alexander Stewart of Invernahayle. At the battle of Prestonpans he had saved the life of one of General Cope´s officers - Lt-Col.Whitefoord. Lt Col. Whitefoord repaid the favour at Culloden by threatening to resign his commission if Invernahayle´s life wasn´t spared. This incident was used by Sir Walter Scott in his novel Waverley. Invernahayle was a client of Sir Walter´s father and it is likely that he heard this story from him when a child.
The Appin Banner is made of blue silk with a yellow saltire and was carried at Culloden by Duncan Stewart, one of the Ardsheal family. He was killed in the opening charge. After him several successive bearers (the exact numbers vary from nine to 17 depending on which account you read) were shot down holding the Banner. The Appin Colour was saved by Donald Livingstone (Domhnull Molach). It, therefore, escaped the fate of the other Jacobite colours, some of which may actually just have been banners for marking campsites, which were captured and then burned at the Mercat Cross, Edinburgh in 1746. Livingstone handed the Banner to Stewart of Ballachulish with those family it stayed until acquired by the Society in 1930. In 1931 the flag was formally laid up at Edinburgh Castle in 1931.
The banner named in Gaelic Bratach Bhàn nan Stiùbhartaich (The White Banner of the Stewarts [of Appin]) was kept for many years in the United Services Museum in Edinburgh Castle. It can still be seen as it is now in the National Museum of Scotland on Chambers Street, Edinburgh