History of the Stewarts
| Famous Stewarts
If you are a Stewart Society Member please login above to view all of the items in this section. If you want general information on how to research your ancestors and some helpful links - please look in background information.
If you have a specific question you can contact our archivist.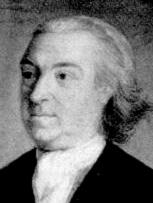 Sir James Steuart (later Denham) (1712-1780)
Steuart was a political economist.. Born in Goodtrees, in 1712. He was the son of Sir James Steuart, Solicitor General for Scotland under Queen Anne and George I, and was born in Edinburgh
He studied at the University. of Edinburgh. Steuart was called to the Bar in 1735.
While on the "Grand Tour" of Europe in the late 1730s he espoused the Jacobite cause. In 1745 he was a member of the Prince´s Council and was then in exile until 1763.
While necessarily abroad he mastered French and German and developed new theories which he published as An Inquiry into the Principals of Political Oeconomy, which was, however, afterwards eclipsed by the success of Adam Smith´s Wealth of Nations.
For last four years of his life having inherited the baronetcy of Denham of Westshield, he was Sir James Steuart Denham, Baronet, of Coltness and Westshield. His major book and his posthumous collected works were published as by Sir James Steuart.