History of the Stewarts
| Famous Stewarts
If you are a Stewart Society Member please login above to view all of the items in this section. If you want general information on how to research your ancestors and some helpful links - please look in background information.
If you have a specific question you can contact our archivist.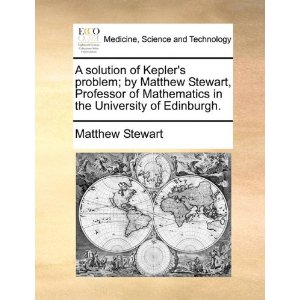 Matthew Stewart was a mathematician. Stewart was born in Rothesay, Isle of Bute, 1717; father of "Philosopher (Dugald) Stewart".
He was a pupil of Robert Simson with whom he studied geometry at Glasgow University. Stewart appears to have helped Simson in the production of his book, "Apollonii Pergaei locorum planorum libri II", which was published in 1749.
His father persuaded him to enter the ministry and he was ordained in May 1744, becoming minister of Roseneath, Dumbartonshire for a year.
In 1746, the chair of Mathematics at Edinburgh University became vacant and Stewart left the church to become instead a professor of Mathematics. Publication of his best known work, "Some General Theorems of Considerable use in the Higher Parts of Mathematics" may have helped him secure the post. This book developed the ideas of his former teacher John Simson and is best known for Stewart´s theorem, which relates measurements on a triangle to an additional line through a vertex.
Stewart also provided a solution to Kepler´s problem using geometrical methods in 1756, and a book describing planetary motion and the perturbation of one planet on another in 1761, along with a supplement on the distance between the sun and earth in 1763.
He married Marjorie Stewart, daughter of Archibald Stewart writer to the signet, on 20 May 1750.
In 1772 Stewart´s health began to deteriorate and his duties as professor at Edinburgh were initially shared, then taken over by his son Dugald Stewart, who later became a prominent Scottish philosopher. He was a founder member of the Royal Society of Edinburgh in 1783. Stewart retired to Catrine, Ayrshire, where he died in 1785. He is buried in Greyfriars Kirkyard, Edinburgh.
With thanks to Wikipedia and the School of Mathemetics and Statisitics, St Andrews University.