History of the Stewarts
| Famous Stewarts
If you are a Stewart Society Member please login above to view all of the items in this section. If you want general information on how to research your ancestors and some helpful links - please look in background information.
If you have a specific question you can contact our archivist.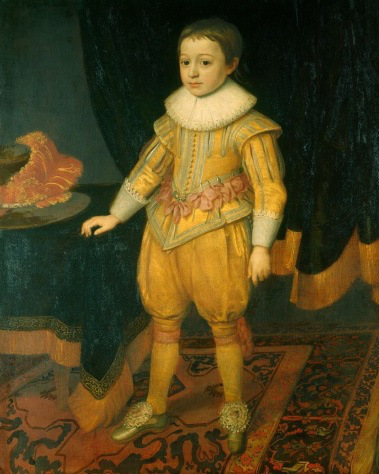 Prince Rupert, Michiel Jansz van Miereveld, 1625. Photo: Royal Collection. This portrait belonged to Charles I.
Born in December 1619 in Prague.
Rupert was the son of Frederick V, Elector Palatine and his wife, Elizabeth Stuart who was the daughter of James VI and . When he was born, his parents were King and Queen of Bohemia, titles that they lost when his father opposed the new Holy Roman Emperor Frederick II who sent an army after them in Prague.
Rupert was very tall and handsome – being around 6ft 4in by the time he reached his late teens. However, he was known to be rather brusque, careless of the feelings of others and even impolite. However, he was highly loyal to those he cared about, in particular his uncle Charles I and cousins.
Rupert became a soldier at the age of fourteen and quickly became known for his fearlessness in battle, excellent planning skills and apparently indefatigable optimism. However, he was also regarded as dangerously reckless and too hot headed by far. He fought against the Holy Roman Empire and was eventually captured in 1638 at the battle of Vlotho and would spend the next three years in captivity, evading conversion from his family's Lutheranism to Catholicism and frequently turning down offers from the Emperor to release him in exchange for taking up a position of command in the Imperial army.
Rupert is best known for fighting against Parliamentarian forces for his uncle Charles I during the Civil Wars Rupert's skill as a commander is undeniable but his lack of tact when dealing with his fellow royalist leaders resulted in division within the Royalist camp. He was seen as rude and dismissive by many of his uncle's advisors and this would ultimately lead to his dismissal from the position of Commander.
While a captive of the Emperor, Rupert had been given with a white hunting poodle he named Boye and the dog became his constant companion, even accompanying him on to the battlefield. There were rumours in parliamentarian pamphlets that Boye was in fact a familar of Satan himself, whose job was to protect 'Robert the Devil' on the battlefield. The Royalists produced pamphlets of their own claiming that Boye had unbelievable powers of divination and the ability to catch bullets in his teeth. Boye met his premature end at the battle of Marston Moor in 1644, leaving Rupert devastated.
After a period spent fighting as a mercenary in Europe, Rupert returned to England when his cousin Charles II was restored to the throne. He was rewarded with the title of Duke of Cumberland, a pension of £4,000 a year and the positions of both Constable of Windsor Castle and Admiral of the Royal Navy.
Rupert's passion for science remained a constant throughout his life and was an interest he shared with his cousin, Charles II who had his own laboratory installed in Whitehall where he would frequently retire to conduct experiments. In fact both Charles and Rupert were to be founding members of the Royal Society in 1660 and took a close interest in the society's activities. Rupert had a laboratory at Windsor Castle for his experiments and it was here that he worked on various military inventions such as various types of weaponry, naval guns, a type of torpedo, different sorts of gunpowder and a diving engine capable of reaching the sea bed.
When young he seems to have spent more time fighting than wooing but all that changed after the Restoration when he offered for the hand of Charles II's sister Henrietta-Anne and then eventually fell in love with Frances Bard, who gave birth to his son Dudley Bard in 1666 and then the actress Peg Hughes, who was his mistress for around fourteen years until his death of pleurisy in 1682 at the age of sixty two. They had a daughter called Ruperta Hughes.