History of the Stewarts
| Famous Stewarts
If you are a Stewart Society Member please login above to view all of the items in this section. If you want general information on how to research your ancestors and some helpful links - please look in background information.
If you have a specific question you can contact our archivist.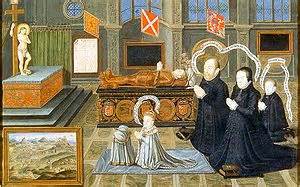 Matthew Stewart, 4th Earl of Lennox was the 4th Earl of Lennox, and leader of the Catholic nobility in Scotland. He was the son of John Stewart, 3rd Earl of Lennox. His grandson was James VI of Scotland.
The Lennox Stewart lands lay mostly north of the Clyde, but the family also had close connections with nobles from the west highlands and the Isles. Matthew´s younger brother Robert Stewart was nominated bishop of Caithness in 1541, though he was never consecrated. They had also gained renown in France; Lennox´s uncle Robert Stewart, seigneur d´Aubigny (c.1470–1544), had moved to France in the 1490s and there enjoyed a distinguished military career.
Matthew Stewart was not quite ten when his father was killed near Linlithgow, on 4 September 1526, and the wardship of his earldom was divided between the earls of Angus and Arran; however, it was soon conveyed to Andrew Stewart, Lord Avondale. Matthew´s adolescence was overshadowed by a problematic relationship with Sir James Hamilton of Finnart, a powerful figure at the court of James V who had also been the killer of Matthew´s father and who was Avondale´s associate in exploiting the lands of the earldom—Finnart´s half-sister was Avondale´s wife. On 29 April 1531 the new earl and Finnart made an agreement under which Lennox forgave his father´s killer, who relinquished his rights in the earl´s marriage but was to be left undisturbed in the lands he had come to hold of the earldom of Lennox.
In 1536 he joined his uncle Robert Stewart in François I´s campaign to Provence. So valiant was his performance in this 'joyage' that in January 1537 he was granted rights of denizenship under the French crown. He settled into the life of a French courtier. But the course of his life was redirected by the death of James V on 14 December 1542.
At the time of the king´s death in 1542, Lennox possessed a strong claim to the throne of Scotland should Mary, Queen of Scots, an infant, pass away childless. He was James V´s second cousin once removed, being a great-grandson of Mary Stewart, Countess of Arran, James II´s daughter, through her daughter, Elizabeth Hamilton. However, the Earl of Arran, James Hamilton, was descended from a son of the Countess of Arran, and thus held the stronger claim. As a result, Lennox was at best third in line of succession, and really behind Arran´s sons. Arran was made Regent of Scotland In 1543, Lennox´s supporters challenged Arran´s claim and legitimacy by suggesting that his father´s divorce and second marriage were invalid.
Lennox arrived at Dumbarton Castle with two ships in March 1543. He came to Edinburgh but refused to ratify Arran´s position as second person and Regent. Arran was pushing towards alliance with England and made the Treaty of Greenwich on 1 July 1543 agreeing to a marriage between Mary, Queen of Scots, and Henry VIII´s son Edward, Prince of Wales. Arran began to fortify Linlithgow Palace where Mary was held with her mother Mary of Guise. Cardinal Beaton´s and Lennox´s supporters camped outside the palace but lacked artillery for an assault. Their representatives parleyed with Arran´s men at Kirkliston, near Edinburgh, and a settlement was reached. Henceforth Arran would rule with the advice of a council and the infant queen would be moved to Stirling Castle. Lennox escorted Mary to Stirling on 26 July 1543.
Although Lennox had come to Scotland possibly with the prospect of marriage to Mary of Guise, by September Lennox had been offered the chance to marry Margaret Douglas, daughter of Margaret Tudor and half-sister of the deceased James V. Meanwhile François I continued to regard him as an ambassador of France, and when the French king finally sent representatives (Jacques de la Brosse and Jules de Menage) to Scotland they were strictly instructed to liaise with Lennox and to place all their trust in him. Thus they went to Dumbarton in late September and unloaded the entire contents (weapons, powder, presents, and money) of their seven vessels into the castle´s keeping. Just how much was brought by them is not certain, but during their embassy they promised pensions of over 2500 crowns of the sun and their total costs came to 41,700 livres tournois. None of the money was ever seen again: Lennox was becoming a very rich and well-armed man. The money and supplies were not intended for the earl´s personal use, however, and by commandeering them he was weakening the French cause in Scotland, faced as it was by a party backed by England. Lennox´s reluctance to co-operate with potential allies in Scotland itself worked to the same effect. Presumably it was in the hope of retaining his loyalty that Mary of Guise proposed that he should marry her daughter, Queen Mary, on condition of his handing over the French money and supporting the Franco-Scottish alliance. It was not until November 1543 that the French appreciated how damaging to their cause his actions had become.
The December parliament removed Lennox from the governor´s council, and in January 1544 the earl abandoned his alliance with Arran and Cardinal Beaton, and joining with Angus, Glencairn, Gilbert Kennedy, third earl of Cassillis, and other supporters of Queen Mary´s English marriage. These 'men of the west' mustered a force of retainers and marched in winter to force Arran to accept the betrothal. However, when they reached Leith, they found themselves vastly outnumbered by Arran´s force. Consequently they had no alternative but to accept on 23 January a dictated acknowledgement of the governor´s authority, the Greenlaw agreement, to lay hostages (such as George Douglas), to lay surety (Lennox´s was £10,000 Scots), and to retire to their estates.
After their humiliation at Greenlaw, it was no surprise that Lennox and Glencairn should have turned to Henry VIII. They agreed on 17 March 1544 to deliver various strongholds, to promote Mary´s marriage to Prince Edward, and to become protestants. Lennox´s reward was to be the hand of Lady Margaret Douglas (1515–1578), Angus´s daughter from his marriage with James IV´s queen, Margaret Tudor, and land in England. Once Henry had prevailed in Scotland, Lennox was to be made governor. Meanwhile Lennox defied the government by placing a garrison in Glasgow steeple and in Dumbarton and with Glencairn gathered about him a small army. Arran then lost all patience and sent yet another army against him in April–May, savaging his retinue on Glasgow Moor and taking the city.
Having lost to Arran, Lennox realized that he had no viable options in Scotland. He therefore engaged in further negotiations with Henry and a formal pact was concluded on 17 May 1544. While Arran was distracted by Hertford´s attack on Edinburgh, Lennox mustered a small navy, set his affairs in order, and slipped away from Dumbarton on 28 May; he arrived in Chester by sea on 7 June and proceeded to London. On 26 June his marriage contract was finalized, and three days later he married Lady Margaret Douglas at St James´s Palace in the presence of Henry and Queen Katherine Howard. On 10 July he became an English subject. He was then granted lands at Temple Newsam in Yorkshire, worth 1700 marks yearly. In Scotland he was forfeited by parliament on 1 October 1545. The Lennoxes had two surviving sons, Henry Stewart, Lord Darnley, and Charles Stewart, later earl of Lennox, but their other six children died in infancy.
He returned to Scotland upon Elizabeth I of England´s urging during the marriage negotiations of Mary, Queen of Scots, in 1564. He quickly took up his position as the most powerful lord in the Glasgow area and was instrumental in the marriage of his son, Lord Darnley, to Mary. Whether Elizabeth had intended this (in order to eliminate the threat of a continental marriage), as is sometimes conjectured, remains doubtful. Elizabeth reacted with disapproval and had Lennox´s wife confined in the Tower of London. By August 1565, William Cecil had heard that Darnley´s insolence had driven Lennox from the Scottish court.
After Darnley was murdered early in 1567, Lennox was the most ardent pursuant of justice against the lords who had conspired in the murder. He also became the main witness against Mary.
In 1570, Lennox became regent for his grandson, James VI, but the queen´s party declared war against him. He was shot dead next year in a skirmish when the queen´s party attacked Stirling. The raid on Stirling on 4 September 1571 was led by the Earl of Huntly, Claude Hamilton, and the lairds of Buccleuch and Ferniehurst. Early reports said he was killed by his own side. William Kirkcaldy of Grange said the shot was fired by the queen´s party, and another account names David Bochinant as the assassin.
References
Oxford Dictionary of National Biography