History of the Stewarts
| Famous Stewarts
If you are a Stewart Society Member please login above to view all of the items in this section. If you want general information on how to research your ancestors and some helpful links - please look in background information.
If you have a specific question you can contact our archivist.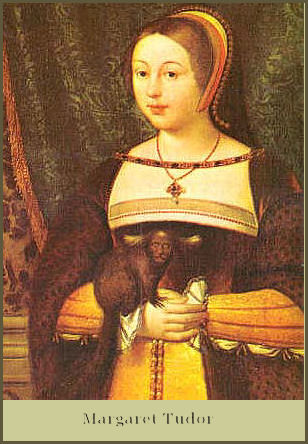 Margaret Tudor (28 November 1489 – 18 October 1541), born at Westminster Palace, was the elder of the two surviving daughters of Henry VII of England and Elizabeth of York, and the elder sister of Henry VIII.
Even before Margaret´s sixth birthday, Henry VII thought about a marriage between Margaret and James IV as a way of ending the Scottish king´s support for Perkin Warbeck, Yorkist pretender to the throne of England. On 24 January 1502, Scotland and England concluded the Treaty of Perpetual Peace, the first peace agreement between the two realms in over 170 years. The marriage treaty was concluded the same day and was viewed as a guarantee of the new peace. The marriage was completed by proxy on 25 January 1503 at Richmond Palace. Patrick, Earl of Bothwell, was proxy for the Scottish King and wore a gown of cloth-of-gold at the ceremony in the Queen´s great chamber. He was accompanied by the Archbishop of Glasgow and Andrew Forman, Postulate of Moray.
It is reported that the marriage between James and Margaret was one of strong affection. The couple had six children, of whom only one survived infancy:
James, Duke of Rothesay (21 February 1507, Holyrood Palace – 27 February 1508, Stirling Castle).
Daughter (died shortly after birth 15 July 1508, Holyrood Palace).
Arthur Stewart, Duke of Rothesay (20 October 1509, Holyrood Palace – 14 July 1510, Edinburgh Castle).
James V ( 10 April 1512, Linlithgow Palace - 14 December 1542, Falkland Palace).
Daughter (died shortly after birth November 1512, Holyrood Palace).
Alexander Stewart, Duke of Ross (30 April 1514, Stirling Castle – 18 December 1515, Stirling Castle).
In reality, of course, the marriage did little to ensure perpetual peace between England and Scotland particularly when Henry VIII came to the throne was determined to fight France, Scotland´s old ally. In 1513, James invaded England to honour his commitment to the Auld Alliance, only to meet death and disaster at the Battle of Flodden. Margaret had opposed the war, but was still named in the royal will as regent for the infant king, James V, for as long as she remained a widow.
Parliament met at Stirling not long after Flodden, and confirmed Margaret in the office of Regent. A woman was rarely welcome in a position of power, and Margaret was the sister of an enemy king, which served to compound her problems. Before long a pro-French party took shape among the nobility, urging that she should be replaced by John Stewart, 2nd Duke of Albany, the closest male relative to the infant prince, and now third in line to the throne. Albany, who had been born and raised in France, was seen as a living representative of the Auld Alliance, in contrast with the pro-English Margaret. She is considered to have acted calmly and with some degree of political skill. By July 1514, she had managed to reconcile the contending parties, and Scotland — along with France — concluded peace with England that same month. But in her search for political allies amongst the fractious Scottish nobility she took a fatal step, allowing good sense to be overruled by emotion.
In seeking allies Margaret turned more and more to the powerful House of Douglas. She found herself particularly attracted to Archibald Douglas, 6th Earl of Angus, whom even his uncle, the cleric and poet Gavin Douglas, called a "young witless fool." Margaret and Douglas were secretly married in the parish church of Kinnoull, near Perth, on 6 August 1514. Not only did this alienate the other noble houses but it immediately strengthened the pro-French faction on the council, headed by James Beaton, Archbishop of Glasgow. By the terms of the late king´s will she had sacrificed her position; before the month was out she was obliged to consent to the appointment of Albany. In September the Privy Council decided that she had also forfeited her rights to the supervision of her sons, in defiance she and her allies took the princes to Stirling Castle.
Albany arrived in Scotland in May 1515, and was finally installed as Regent in July. His first task was to get custody of James and Alexander, essential for the authority of the regency. Margaret, after some initial defiance, surrendered at Stirling in August. With the princes in the hands of their uncle, the Queen Dowager, now expecting a child by Angus, retired to Edinburgh.
Margaret obtained permission to go to Linlithgow from where she escaped to England. She was received by Lord Dacre, Henry´s Warden of the Marches, and taken to Harbottle Castle in Northumberland. Here in early October she gave birth to Lady Margaret Douglas, the future Countess of Lennox and mother of Henry Stuart, Lord Darnley, cousin and second husband to Mary, Queen of Scots. While still in the north of England, Queen Margaret learned of the death of her son, Alexander. It was also at this time that she at last began to get the measure of Angus, who, with an eye on his own welfare, returned to Scotland to make peace with the Regent, "which much made Margaret to muse." When Henry learned that Angus would not be accompanying his sister to London he said, "Done like a Scot."
In 1517, having spent a year in England, she returned north, after a treaty of reconciliation had been worked out by Albany, Henry and Cardinal Wolsey. Albany was temporarily absent in France where he renewed the Auld Alliance once more and arranged for the future marriage of James V. Although Margaret and Angus were temporarily reconciled, it was not long before their relationship entered a phase of terminal decline. She discovered that while in England her husband had been living with Lady Jane Stewart, a former lover.
This was a difficult issue for Henry he was opposed to divorce on principle. Angus was a useful ally and an effective counter-weight to Albany and the pro-French faction. Albany, seemingly in no hurry to return to Scotland suggested that Mary resume the regency. Albany finally arrived back in Scotland in November 1521 and was warmly received by Margaret. It was soon rumoured that their cordial relations embraced more than politics. Angus went into exile while the Regent, with the full co-operation of the Queen-Dowager, set about restoring order to a country riven by three years of intense factional conflict. Albany was useful to Margaret: he was known to have influence in Rome, which would help ease her application for a divorce.
In 1524, the Regent was finally removed from power in a simple but effective coup d´état. With Albany once more in France (where he was to die in 1536), Margaret, with the help of Arran and the Hamiltons, brought James, now twelve years old, from Stirling to Edinburgh. It was a bold and popular move. In August Parliament declared the regency at an end, as James was elevated to full kingly powers. In practice, he would continue to be governed by others, his mother above all. When Beaton objected to the new arrangements Margaret had him arrested and thrown into jail. In November Parliament formally recognised Margaret as the chief councillor to the King.
Margaret formed a new attachment, this time to Henry Stewart, a younger brother of Lord Avondale. Stewart was promoted to senior office, angering the Earl of Lennox, among others, who promptly entered into an alliance with her estranged husband. That same November, when Parliament confirmed Margaret´s political office, her war with Angus descended into a murderous farce. When he arrived in Edinburgh with a large group of armed men, claiming his right to attend Parliament, she ordered cannons to be fired on him from both the Castle and Holyrood House. Angus withdrew for the time being, but under pressure from various sources the Queen finally admitted him to the council of regency in February 1525. It was all the leverage he needed. Taking custody of James he refused to give him up, exercising full power on his behalf for a period of three years. James´ experience during this time left him with an abiding hatred of both the house of Douglas and the English connection.
Despite the coup of 1524 she corresponded with Albany, who continued his efforts on her behalf in Rome. In March 1527, Pope Clement VII granted her petition. Because of the political situation in Europe at the time it was not until December that she learned of her good fortune. She married Henry Stewart on 3 March 1528..
In June 1528, James V finally freed himself from the tutelage of Angus, who once more fled into exile, and began to rule in his own right. Margaret was an early beneficiary of the royal coup, she and her husband becoming advisors to the King.
Margaret died at Methven Castle, in Perthshire on 18 October 1541and was buried at the Carthusian Priory of St John in Perth -demolished during the Reformation, 1559.
Thanks to wikipedia
Perry, Maria, Sisters to the King, André Deutsch, (2007)
Plowden, Alison, Tudor Women, Sutton (2002)