History of the Stewarts
| Famous Stewarts
If you are a Stewart Society Member please login above to view all of the items in this section. If you want general information on how to research your ancestors and some helpful links - please look in background information.
If you have a specific question you can contact our archivist.
King Robert III of Scotland
1390-1406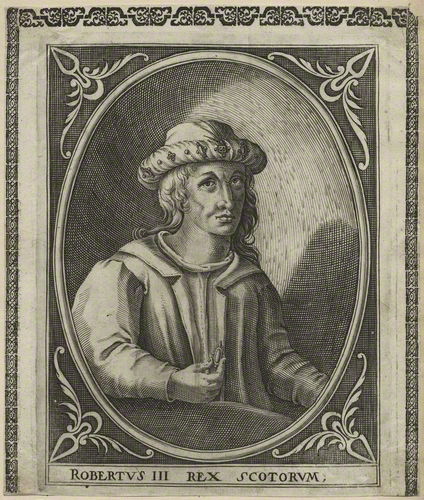 When Robert II died, he was succeeded by his 53-year-old son John, who took the name Robert III (as his given name John brought back defeatist memories of John Balliol). As well as his advanced years, Robert suffered other disadvantages: he had been born illegitimate although he was made legitimate in 1347. In 1366-67, the king arranged for John to marry Annabella Drummond, the niece of David´s second Queen, Margaret. The marriage had brought him the earldom of Atholl from his father and the earldom of Carrick in 1367 in June 1368. However, when John along with his father and brother opposed the king´s plan to marry Agnes Dunbar after the annulment of his marriage he was imprisoned. The king´s death probably came as a relief and his fortunes improved when he was named as heir. However his natural political ambitions had created tensions.
He had been disabled in 1388 by a horse´s kick, so that he had been regarded as unfit to govern for his father. He was dominated by his younger brother, the Duke of Albany, and when he tried to rule for himself, ´he who was strong oppressed the weak and the whole kingdom was one den of thieves´, according to one of the chroniclers. However by the mid 1390s Robert III, through his son seems to have been once more at centre stage in Scotland. The king seems to have regained controlled of Anglo-Scottish policy. He was also able to build up the power of the Red Douglas earls of Angus to act as a counter balance to Fife´s allies the Black Douglases. Robert then turned his attention to the north.
In 1399, the Scottish Parliament condemned what they called his misrule. His heir David the Duke of Rothesay was prepared to collude with his uncle Albany and Archibald earl of Douglas, to use the excuse of the king´s illnesses to seize power. Rothesay however had to accept a Council dominated by Albany and Douglas. The king found himself marginalised to his family lands in the west. Rothesay´s attempts to act independently alienated his uncle and he was however, imprisoned and probably starved to death at Albany´s own castle of Falkland in 1402. By destroying Robert´s heir, Albany had won the support of the 4th earl of Douglas. The aging king had no real choice but to agree to their actions and declare that his son had died by divine providence and not otherwise as was clearly the case. Albany was appointed King´s lieutenant for two years and Douglas got the war with England that he had wanted . This however ended in the disastrous defeat of Humbleton Hill on 14 September 1402, where Douglas was captured along with Albany´s heir Murdac.
However this capture gave Robert a chance to break out from the west. A regality was created in Carrick which excluded Albany´s power. Robert III became increasingly influential in talks with England after 1402. Unfortunately when Henry Sinclair, earl of Orkney and Sir David Fleming of Cumbernauld tried to use Prince James as a figure head to challenge Albany and Douglas power in Lothian in 1406 it went badly wrong. Orkney and James were forced to take shelter on the Bass Rock then on a ship for France. James never reached France, of course. he was captured by pirates and was taken as a captive to Henry IV.
He died soon after hearing that the 11-year-old prince had been captured at sea by English pirates. Painfully aware of his own deficiencies, he had exclaimed according to fifteenth century Scottish chronicler, Walter Bower ´Bury me in a midden and write, "Here lies the worst of kings and the most wretched of men". He was buried at Paisley Abbey.
Robert III married Anabella Drummond, the daughter of Sir John Drummond of Stobhall and Lady Mary Montifex, daughter of Sir William Montifex. The marriage resulted in seven children:
David, Duke of Rothesay (b. 24 Oct 1378- d. 26 Mar 1402), who was betrothed to Elizabeth Dunbar but later married Marjory Douglas, the daughter of Archibald Douglas, 3rd Earl of Douglas and Jean Moray (or Joanna Moravia) of Strathearn.
Robert (died in infancy)
James I of Scotland (b. Dec 1394 - d. 21 Feb 1437)
Margaret (died between 1450 and 1456), married Archibald Douglas, 4th Earl of Douglas, the son of Archibald Douglas, 3rd Earl of Douglas and Joanna de Moravia of Strathearn.
Mary, Married 1st George Douglas, 1st Earl of Angus; Married 2nd Sir James Kennedy the Younger; Betrothed to Sir William Cunningham; Married 3rd to Sir William Graham of Kincardine; Married 4th Sir William Edmonstone of Culloden and 1st of Duntreath (ancestors of the Edmonstone baronets)
Elizabeth, married James Douglas, 1st Lord Dalkeith, son of Sir James Douglas and Agnes Dunbar
Egidia; she died in infancy
Robert III also had at least two illegitimate children:
James Stewart of Killbride
John Stewart of Ardgowan and Blackhall, who was an ancestor to the Shaw-Stewart baronets