History of the Stewarts
| Famous Stewarts
If you are a Stewart Society Member please login above to view all of the items in this section. If you want general information on how to research your ancestors and some helpful links - please look in background information.
If you have a specific question you can contact our archivist.
Euphemia Ross, Queen of Scots
Second Wife of Robert II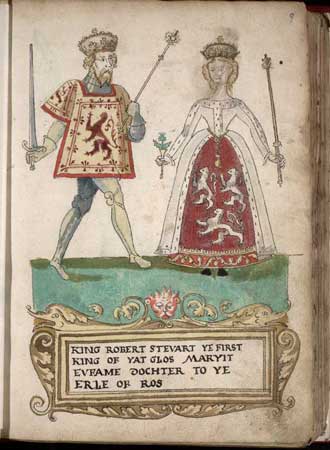 Euphemia Ross the second wife and only queen of Robert II, was the daughter of Hugh de Ross, 4th Earl of Ross. She was probably born between about 1325 and 1330, but this is very uncertain. Her mother was the Earl's second wife, Margaret, daughter of Sir David Graham of Montrose. Euphemia´s parents were granted a dispensation to marry, legitimating past and future children born to them, 29 November 1329.
She had married firstly, John Randolph, 3rd Earl of Moray, who was killed at the disastrous battle of Neville´s Cross, 17 October 1346, leaving her a childless and vulnerable widow of, at the most, 21, and probably rather younger.
She married secondly (dispensation granted by Pope Innocent VI at Avignon, 2 May 1355), as his second wife, Robert Stewart, Earl of Strathearn, who succeeded to the throne as Robert II, 22 February 1371. She gave him 2 sons and 2 daughters. She was crowned at Scone by Alexander de Kyninmund II, Bishop of Aberdeen, in 1372.
She died in 1387, predeceasing her husband by about 3 years, but the exact date and the place of her death and burial seem to have gone unrecorded. She must have been a very good-natured and long-suffering lady, putting up with the numerous and flagrant infidelities of her royal husband. Her personal charm and beauty may be inferred from the fact that both her daughters possessed those qualities in a marked degree.
In 1355, Euphemia Ross married Robert II. They had four children:
David Stewart, Earl of Strathearn, born about 1356 and died in 1389.
Walter Stewart, Earl of Atholl, born about 1360, beheaded at Edinburgh in 1437 for being involved in the assassination of King James I.
Elizabeth, who married in 1380 David Lindsay, 1st Earl of Crawford.
Egidia, who married in 1387 William Douglas of Nithsdal