History of the Stewarts
| Famous Stewarts
If you are a Stewart Society Member please login above to view all of the items in this section. If you want general information on how to research your ancestors and some helpful links - please look in background information.
If you have a specific question you can contact our archivist.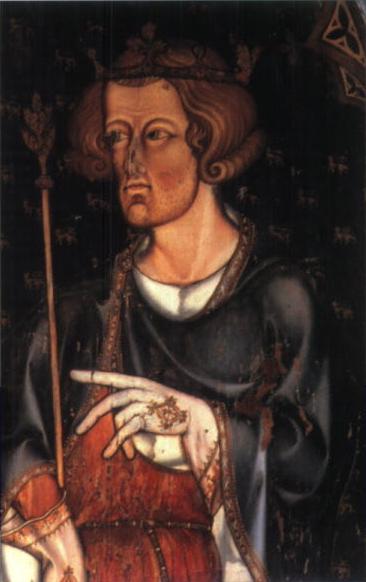 picture in Westminister Abbey thought to be Edward I
Born in June 1239 at Westminster, Edward was named by his father Henry III after the last Anglo Saxon king (and his father´s favourite saint), Edward the Confessor.
Edward spent his young adulthood learning harsh lessons from Henry III´s failures as a king, culminating in a civil war in which he fought to defend his father. Henry´s ill-judged and expensive intervention in Sicilian affairs failed, and aroused the anger of the powerful barons including Henry´s brother-in-law Simon de Montfort. Bankrupt and threatened with excommunication, Henry was forced to agree to the Provisions of Oxford in 1258, under which his debts were paid in exchange for substantial reforms; a Great Council of 24, partly nominated by the barons, assumed the functions of the King´s Council.
Henry repudiated the Provisions in 1261 and sought the help of the French king Louis IX. This was the only time Edward was to side with his godfather Simon de Montfort. However, by the time Louis IX decided to side with Henry in the dispute and civil war broke out in England in 1263, Edward had returned to his father´s side. With the end of the civil war after de Montfort´s death, Edward worked hard at reconciliation between his father and the rebels, and by 1267 the realm had been pacified.
In April 1270 Parliament agreed an unprecedented levy of one-twentieth of every citizen´s goods and possessions to finance Edward´s Crusade to the Holy Lands. Edward left England in August 1270 to join the highly respected French king Louis IX on Crusade. Meanwhile, Henry III died on 16 November 1272. Edward succeeded to the throne without opposition - given his track record in military ability and his proven determination to give peace to the country, enhanced by his magnified exploits on crusade. In Edward´s absence, a proclamation in his name declared that he had succeeded by hereditary right, and the barons swore allegiance to him. Edward finally arrived in London in August 1274 and was crowned at Westminster Abbey.
Edward was determined to enforce English kings´ claims to primacy in the British Isles. Edward´s assertion that the King of Scotland owed feudal allegiance to him, and the embittered Anglo-Scottish relations leading to war which followed, were to overshadow much of Edward´s reign in what was to become known as the ´Great Cause´.
Under a treaty of 1174, William the Lion of Scotland had become the vassal to Henry II, but in 1189 Richard I had absolved William from his allegiance. Intermarriage between the English and Scottish royal houses promoted peace between the two countries until the premature death of Alexander III in 1286.
In the absence of an obvious heir to the Scottish throne, the disunited Scottish magnates invited Edward to determine the dispute. In order to gain acceptance of his authority in reaching a verdict, Edward sought and obtained recognition from the rival claimants that he had the ´sovereign lordship of Scotland and the right to determine our several pretensions´.
In November 1292, Edward and his 104 assessors gave the whole kingdom to John Balliol or Baliol as the claimant closest to the royal line; Balliol duly swore loyalty to Edward and was crowned at Scone. John Balliol´s position proved difficult. Edward insisted that Scotland was not independent and he, as sovereign lord, had the right to hear in England appeals against Balliol´s judgements in Scotland. In 1294, Balliol lost authority amongst Scottish magnates by going to Westminster after receiving a summons from Edward; the magnates decided to seek allies in France and concluded the ´Auld Alliance´ with France - an alliance which was to influence Scottish history for the next 300 years.
In March 1296, having failed to negotiate a settlement, the English led by Edward sacked the city of Berwick near the River Tweed. Balliol formally renounced his homage to Edward in April 1296, speaking of ´grievous and intolerable injuries ... for instance by summoning us outside our realm ... as your own whim dictated ... and so ... we renounce the fealty and homage which we have done to you´.
Edward´s forces overran remaining Scottish resistance. Scots leaders were taken hostage, and Edinburgh Castle, amongst others, was seized. Balliol surrendered his realm and spent the rest of his life in exile in England and Normandy. Having humiliated Balliol, Edward´s insensitive policies in Scotland continued: he appointed a trio of Englishmen to run the country. Edward had the Stone of Scone - also known as the Stone of Destiny - on which Scottish sovereigns had been crowned removed to London and subsequently placed in the Coronation Chair in Westminster Abbey (where it remained until it was returned to Scotland in 1996).
In Scotland, Edward pursued a series of campaigns from 1298 onwards. William Wallace had risen in Balliol´s name and recovered most of Scotland, before being defeated by Edward at the battle of Falkirk in 1298. Wallace escaped, only to be captured in 1305, allegedly by the treachery of a fellow Scot and taken to London, where he was executed.
In 1304, Edward summoned a full Parliament which elected Scottish representatives also attended in which arrangements for the settlement of Scotland were made. The new government in Scotland featured a Council, which included Robert the Bruce. Bruce rebelled in 1306. Despite his failing health, Edward was carried north to pursue another campaign, but he died en route at Burgh on Sands on 7 July 1307 aged 68.
According to chroniclers, Edward requested that his bones should be carried on Scottish campaigns and that his heart be taken to the Holy Land. However, Edward was buried at Westminster Abbey