History of the Stewarts
| Famous Stewarts
If you are a Stewart Society Member please login above to view all of the items in this section. If you want general information on how to research your ancestors and some helpful links - please look in background information.
If you have a specific question you can contact our archivist.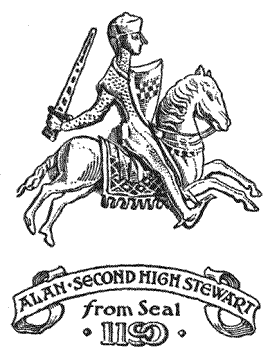 Son of: Walter Fitz-Alan, 1st High Steward
Father of: Walter Stewart, 3rd High Steward
Alan Fitz-Walter, 2nd High Steward of Scotland, was the only authentically recorded son of Walter, 1st High Steward, though there may have been others. His mother was Eschyna de Molle and he was probably born c.1140.
Alan was a Commander under Richard the Lionheart on the Third Crusade in 1191. He sailed with him from England and arrived in time to take part in the conquest of Cypress.
He was a patron of the Knights Templar, adding considerably to their strength and possessions in Scotland both before and after his return from the Crusade.
He appears to have married Eva, daughter of Swain (or Swan) son of Thor, Lord of Tippermuir (Perthshire) and of Tranent (East Lothian), but this identification of his wife has been disputed by some genealogists.
He succeeded his father in 1177 and died in 1204, having been High Steward for 27 years. He was in turn succeeded by his younger son, Walter, as 3rd High Steward, his elder boy, David, having predeceased him.
The likeness of him shown on this page is from one of his original wax seals, appended to a charter dated c.1190, just as he was leaving for the Holy War.