History of the Stewarts
| Famous Stewarts
If you are a Stewart Society Member please login above to view all of the items in this section. If you want general information on how to research your ancestors and some helpful links - please look in background information.
If you have a specific question you can contact our archivist.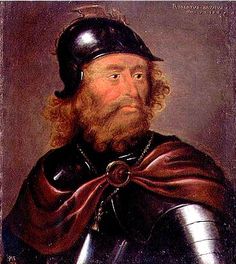 A 19th century picture of Walter, 6th High Steward
Born 1292; succeeded as Steward 1309; died 1326.
Walter fought on the Scottish side at the Battle of Bannockburn in 1314 He was probably the nominal leader of one of the four Scottish schiltrons, but because of his youth and inexperience, its effective leader was his cousin James Douglas, Lord of Douglas. This is, however, disputed, as some historians claim that there were only three Scottish schiltrons at Bannockburn.
When Robert the Bruce´s wife and daughter were freed from their long captivity in England, the High Steward was sent to receive them at the Border and conduct them back to the Scottish Court
During Robert the Bruce´s absence in Ireland the High Steward and Sir James Douglas managed government affairs and spent much time defending the Scottish Borders. Upon the capture of Berwick-upon-Tweed from the English in 1318 he was given command of the town which, on 24 July 1319 was laid siege to by King Edward II of England. Several of the siege engines were destroyed by the Scots´ garrison and the Steward suddenly rushed in force from the town to drive off the enemy.
Walter, 6th High Steward, married, first, in 1315, Princess Marjorie Bruce, daughter of Robert the Bruce. She died at the birth of their only child, a son:
1) Robert Stewart, who eventually succeeded to the throne as Robert II, the first Stewart King of Scots, on the death of his half-uncle, David II, in 1371.
Walter married second, Isabel, sister of Sir John Graham of Abercorn, and had 2 sons and 1 daughter:
2) Sir John Stewart of Ralston (Raliston, Railston) or Cunningham, who had 2 sons who both died without issue. His arms were: or, a fess chequy, azure and argent, in chief a lion passant gules, armed and tongued azure.
3) Sir Andrew Stewart. Nothing seems to be known of him.
1) Egidia Stewart, who was married three times. She married, Sir James Lindsay of Crawford; then after October 1357, Sir Hugh of Eglinton; and finally (contract October 1378), Sir James Douglas of Dalkeith.
Walter´s arms are found on a seal attached to a charter dated c.1314-18: A fess chequy, as head of the house of Stewart.