History of the Stewarts
| Battles and Historic Events
If you are a Stewart Society Member please login above to view all of the items in this section. If you want general information on how to research your ancestors and some helpful links - please look in background information.
If you have a specific question you can contact our archivist.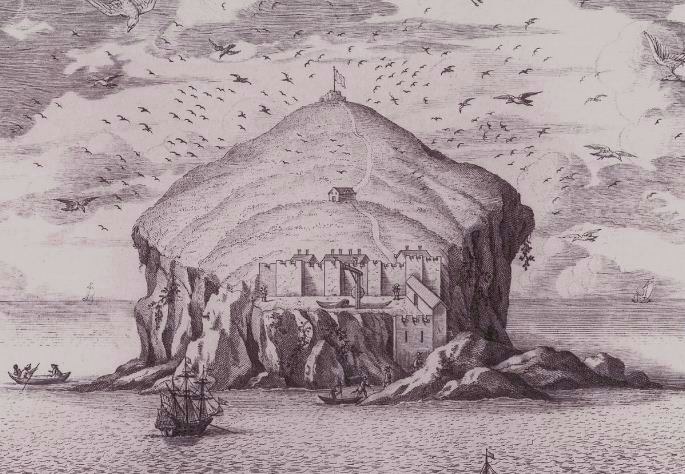 The Bass Rock in the seventeenth century when the castle where James stayed was used a prison for covenaters
In February 1406 James´ father, King Robert III, fearing for his infant son´s safety as internal factions vied for control of the kingdom, attempted to send James to safety in France. James was accompanying nobles close to his father when they clashed with supporters of Archibald, 4th Earl of Douglas, forcing the prince to take refuge in the castle of the Bass Rock, a small islet in the Firth of Forth. He remained there until mid-March, when he boarded a vessel bound for France, but on 22 March while off the English coast, pirates captured the ship and delivered James to Henry IV of England. Two weeks later, on 4 April the ailing Robert III died, and the 12-year-old uncrowned King of Scots would be a prisoner of the English king, Henry IV (and later Henry V). for eighteen years.
During his absence the Scottish court was dominated by James´ uncle, Robert Stewart, Duke of Albany. The Duke resolutely refused to pay the ransom demanded by the English for the return of James. While the Albany Stewarts prospered, the captive James enjoyed life at the English court and plotted revenge on the Albany Stewarts.