History of the Stewarts
| Battles and Historic Events
If you are a Stewart Society Member please login above to view all of the items in this section. If you want general information on how to research your ancestors and some helpful links - please look in background information.
If you have a specific question you can contact our archivist.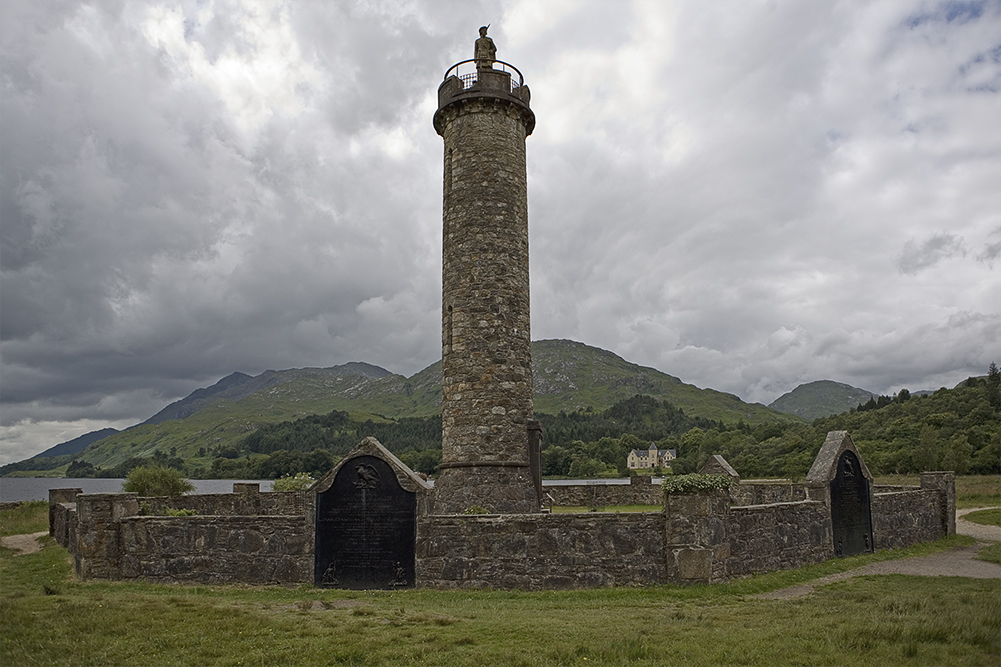 copyright©2006 Antony McCallum - this and all derivative images (+44) 07884055543
On 18 August Charles left Kinlochmoidart and the Clanranald MacDonalds helped transport Charles´ stores to Glenfinnan, where Charles planned a meeting of the chiefs of the clans. With a bodyguard of approximately 400, mostly from the MacDonalds of Clanranald and Morar, Charles met the chief of Clan Cameron (who had an escort of 800 Camerons) on 19 August at Glenfinnan.
The Jacobite standard was erected, a banner of red silk with a white space in the centre. The Catholic bishop Hugh MacDonald blessed the standard. The Marquis of Tullibardine read aloud the Declaration of King James to the assembled clans, James´ commission appointing Charles his Prince Regent, and Charles´ manifesto (dated 16 May 1745).In this manifesto, Charles declared he was executing the will of his father in asserting his undoubted right to the throne of his ancestors. After all this the Highlanders "threw their bonnets in the air and huzza´d 3 different times, crying alowd long live K. James the 8, and Charles P. of Wales, prosperity to Scotld and no union".
Eventually the following clans "came out" to join the Prince: Clan Cameron, Clan Chisholm, Clan Drummond, Clan Farquharson, Clan Hay, Clan MacLea, Clan MacBain, Clan MacColl, Clan MacDonald of Clan Ranald, Clan MacDonald of Glencoe, Clan MacDonnell of Glengarry, Clan MacDonald of Keppoch, Clan Macfie, Clan MacGillivray, Clan MacGregor, Clan MacInnes, Clan MacKintosh, Clan MacIver, Clan Mackinnon, Clan Maclachlan, Clan MacLaren, Clan MacNeil of Barra, Clan Macpherson, Clan Menzies, Clan Morrison, Clan Ogilvy, Clan Oliphant, Clan Robertson, Clan Stewart of Appin.
Furthermore, the regiment of Atholl Highlanders was mostly made up of members of Clan Murray, Clan Fergusson, and Clan Stewart of Atholl. Significant numbers of men from Clan Elphinstone, Clan Forbes, Clan Keith, Clan MacIntyre, Clan MacKenzie, Clan MacLean, Clan MacLeod of MacLeod, Clan MacLeod of Lewis, Clan MacTavish, Clan MacMillan, Clan Maxwell, Clan Ramsay, and Clan Wemyss also joined the Jacobite army.
The Frasers also joined the pretender and fought at Culloden. Many men of the Clan Gordon joined the Jacobites led by the chief´s brother Lord Lewis Gordon although the chief of Clan Gordon claimed to support the British government his brother raised two regiments in support of the Jacobites.
Some chieftains who were trying or planning to raise their clan for the Pretender were stopped or even imprisoned, notably Sir James Campbell of Auchnabreck and Alexander MacDougall of Dunollie, who were stopped from raising Clan Campbell of Auchnabreck and Clan MacDougall by Campbell of Argyll, and Sir Hector MacLean and Dugald MacTavish of Dunardry, who would have raised Clan MacLean and Clan MacTavish had they not been imprisoned by the government