History of the Stewarts
| Battles and Historic Events
If you are a Stewart Society Member please login above to view all of the items in this section. If you want general information on how to research your ancestors and some helpful links - please look in background information.
If you have a specific question you can contact our archivist.
The Assassination Of Regent Moray
Murder of Lord James Stewart in 1570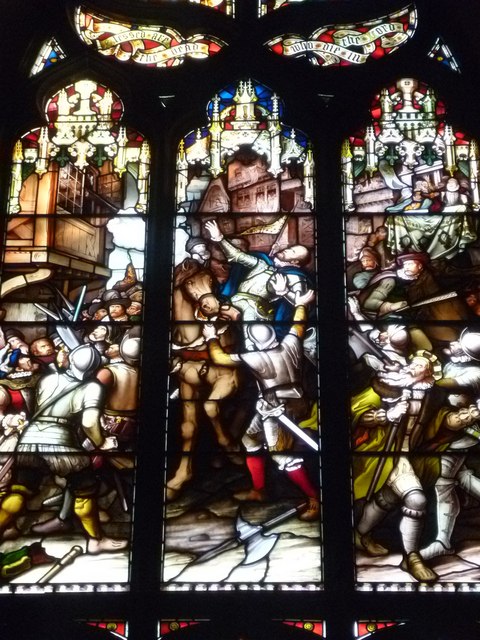 Stained-glass window depicting the assassination of the Regent Moray in Linlithgow High Street in 1570. The window was paid for by the 14th earl of Moray as part of a Victorian restoration in the 1880s
Moray was assassinated in Linlithgow on 23 January 1570 by James Hamilton of Bothwellhaugh, a supporter of Mary. As Moray was passing in a cavalcade in the main street below, Hamilton fatally wounded him with a carbine shot from a window of his uncle Archbishop Hamilton´s house. It was the first recorded assassination by a firearm.
The Regent´s body was brought to Leith then taken to Holyrood Abbey. Moray was buried on 14 February 1570 in St. Anthony´s aisle at St. Giles, Edinburgh. Seven earls and lords carried his body; William Kirkcaldy of Grange held his standard, and John Knox preached at the funeral. Moray´s tomb was carved by John Roytell and Murdoch Walker, with a brass engraved by James Gray. Unfortunately the tomb did not survive later alterations but its original brass plate survived and was fitted to his replica memorial in the Holy Blood Aisle, which also has a stained glass window depicting his death and funeral.