History of the Stewarts
| Battles and Historic Events
If you are a Stewart Society Member please login above to view all of the items in this section. If you want general information on how to research your ancestors and some helpful links - please look in background information.
If you have a specific question you can contact our archivist.
23 December 1745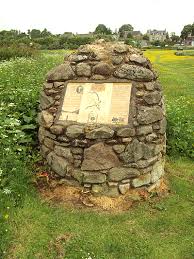 By December 1745 the Jacobites controlled most of Aberdeenshire and Banffshire, including
Aberdeen. The Government commander in the north, Lord Loudoun, sent a detachment of troops to
attempt an attack on Aberdeen. The Jacobite Governor, Lord Lewis Gordon, led his troops
against this Government force and they surprised and defeated them at Inverurie in
Aberdeenshire, on 23 December 1745.
The casualties were light, but the battle was significant nonetheless, as this Jacobite victory
meant that the Government and its supporters made no further attempt to seize back
the north-east until Cumberland arrived in spring 1746.
The Bass of Inverurie is a medieval castle motte which played a part in the battle (one of the
Jacobite columns crossed, under fire, a ford next to the motte) and which survives to this day.
The Government troops suffered fifteen wounded with the enemy, seven wounded brought back to Elgin and fifty-nine taken prisoner. The Jacobites concealed their number of dead but a Jacobite present at the battle estimated fourteen dead and a Government officer estimated that the Jacobites had lost between 30 - 40 dead. So it is likely the actual number lies somewhere in between