History of the Stewarts
| Battles and Historic Events
If you are a Stewart Society Member please login above to view all of the items in this section. If you want general information on how to research your ancestors and some helpful links - please look in background information.
If you have a specific question you can contact our archivist.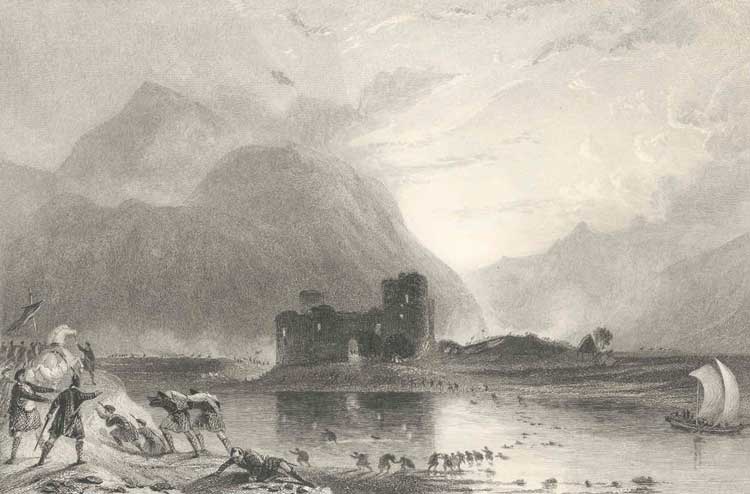 By the fifteenth century relations between the Crown and the MacDonalds (whose chief held the title Lord of the Isles) were fractious. When James I was released from captivity in England, he sought to break the power of the Lordship of the Isles. In 1428 he summoned Alexander, Lord of the Isles to come before him at Inverness Castle. When he duly appeared he was arrested and imprisoned. Although released in 1429, Alexander returned to Inverness and burnt the town in retaliation. A royal expedition forced Alexander to submit to James in August 1429 and he was again imprisoned, this time in Tantallon Castle in East Lothian.
With Alexander out of the way, James I hoped to install Alexander Stewart, Earl of Mar as Lord of the Isles and thus break the power of the MacDonalds over the western seaboard. In early 1431 he was made Lord of Lochaber and a marriage was arranged between Alexander´s daughter and Lachlan Maclean forging a link with a significant faction within the Lordship of the Isles. Mar advanced into Lochaber to claim his new inheritance and by September 1431 was in Inverlochy where he had dislodged Alexander´s kinsmen, Alasdair Carrach, from the castle. In response Donald Balloch, younger cousin to the imprisoned Alexander, summoned members of his clan to a council of war on the Isle of Carna in Loch Sunart. From there the combined force sailed to Loch Linnhe.
The precise location of the battlefield is unknown but it is likely Mar´s force was camped on the ground immediately to the north-east of Inverlochy Castle. The MacDonalds sailed along Loch Linnhe and launched a three pronged attack. Alasdair Carrach commanded a detachment of archers who occupied the high ground overlooking the royal camp. At the same time, Balloch charged from the south routing Mar´s men whilst the remnant of Carrach´s soldiers attacked from the other direction. The battle soon descended into a series of skirmishes but the Royal supporters had lost the initiative and were slaughtered. Some accounts suggest up to 1,000 Royal soldiers were killed in the defeat including Alan Stewart, Earl of Caithness. The Earl of Mar escaped the scene.
The defeat ended James I´s attempts to break the Lordship of the Isles . Whilst the King attempted to raise revenue for a new expedition, insufficient funds were generated and ultimately he was forced to reconcile with Alexander. The imprisoned lord was released and subsequently would become the foremost magnate in northern Scotland