History of the Stewarts
| Battles and Historic Events
If you are a Stewart Society Member please login above to view all of the items in this section. If you want general information on how to research your ancestors and some helpful links - please look in background information.
If you have a specific question you can contact our archivist.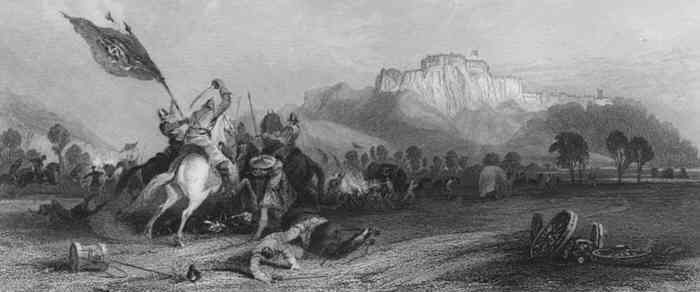 In 1488, a number of disaffected Scottish nobles rose against James III, with his son, James, duke of Rothesay, who was only 15, as their nominal leader. James III was an unpopular king for most of his reign. In 1482, he lost Berwick to the invading English, with whom his brother Alexander had allied himself; when he raised an army, promoting his favourites, many of the nobility turned against him in open rebellion. James´s favourites were murdered and he was imprisoned in Edinburgh Castle. Even after this he continued to seek an unpopular alliance with England, promote his favourites much to the disgust of much of the nobility and finally became estranged from his wife and eldest son, James. It is not clear to what extent the young James, later James IV, was an active participant in the rebellion against his father or simply a pawn used by the rebel nobles to legitimise their actions.
The two sides met in battle just south of Stirling and the rebels prevailed. . The king fled and traditionally is supposed to have died at Milton Mill on the Bannock Burn. There is a plaque commemorating the event, but the stories surrounding his death are all later and somewhat dubious authenticity. The parliamentary record of the time says that the king "happinit to be slane." Parliament exonerated the new king, James IV, and attributed the death of his father to the old King having merely followed bad counsel. "Oure soverane lord that now is and the trew lordis and barouns that wes withe him in the samyne feild war innocent, quhyt and fre of the saidis slauchteris feilde and all persute of the occasioune and cause of the samyn"
It is difficult to ascertain the facts of the battle however the royalist army on the battlefield may have consisted of as many as 30,000 troops, whereas the rebel army numbered about half that; around 18,000 men.
The battle is significant as a new King comes to the throne of Scotland as a direct result of the conflict. It also one of the few battles where a reigning King of Scotland is killed as a result of the battle, although James III does not appear to have died in the battle itself but in his attempt to escape James IV´s guilt and grief at his father´s death was so great that he wore an iron belt of penitence around his waist for the rest of his life. He signed a peace treaty with Henry VII of England in 1502, and married his daughter Margaret in 1503.