History of the Stewarts
| Battles and Historic Events
If you are a Stewart Society Member please login above to view all of the items in this section. If you want general information on how to research your ancestors and some helpful links - please look in background information.
If you have a specific question you can contact our archivist.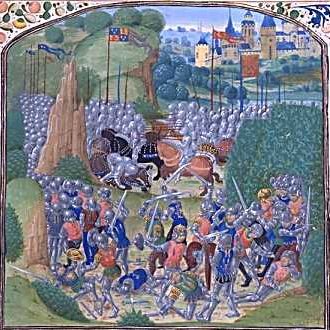 The Battle of Otterburn from The Chronicles of Jean de Froissant
In the summer of 1388 the Scots took advantage of the power struggle in England between Richard II and the lords Appellant by launching a three-pronged attack against the English; in Ireland, the West March and the East March. The attack in the east was led by James, earl Douglas with a force of some 6,000 troops which advanced as far as Durham, burning as they came. The son of the earl of Northumberland, Henry 'Hotspur' Percy was dispatched by his father to Newcastle to intercept the Scots' route home.
In the skirmishing around the walls of Newcastle the silk pennon on Percy's lance was captured by Douglas. Tradition holds that Percy vowed to recapture the pennon and Douglas agreed to allow him the chance to do so. It is supposedly for this reason that Percy pursued the Scots as they headed north-west from the encounter at Newcastle, and why Douglas halted at Otterburn to await him.
On the 19th August the Scots were camped about a mile to the west of Otterburn after attempting unsuccessfully to take the castle. Following a council of war Douglas decided,to remain at Otterburn. Arriving near Otterburn at evening, Percy launched a flanking attack with part of his force under the Lords Redmane and Ogyl, hoping to panic the Scots into fleeing straight into the main body of troops under Percy himself. However the Scots launched a surprise counter-attack on Percy´s men. Fighting continued through the night, and eventually the Scots won, although earl Douglas himself was killed. On the English side Henry Percy and twenty-one other knights were captured, and over 1,000 were killed.
The battle of Otterburn was a Scottish victory, though not a resounding one as their leader James, earl Douglas was killed and the English were not routed as their capture of 200 Scots pursuing them from the field indicates. Despite being captured Henry Hotspur's reputation as a heroic leader was secured; his ransom paid largely from the public purse.
Thanks to UK Battlefields Resource Centre, Geograph.org.uk, and Northumbria Byways