History of the Stewarts
| Battles and Historic Events
If you are a Stewart Society Member please login above to view all of the items in this section. If you want general information on how to research your ancestors and some helpful links - please look in background information.
If you have a specific question you can contact our archivist.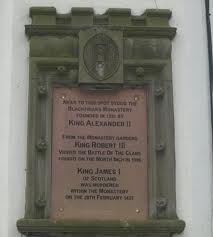 The Battle of North Inch
In September 1396, thirty representatives of the Clan Chattan and thirty from the Clan Kay fought in an attempt to settle a feud. This was one of the last judicial combats, or trials by combat, to be fought in Scotland.
The Battle of the North Inch (also known as the Battle of the Clans) was a staged battle between the Chattan Confederation and the "Clan Kay". 30 men were selected to represent each side in front of spectators that included King Robert III of Scotland and his court, on land that is now the North Inch park in Perth, Scotland.
The Chattans killed all but one of their opponents at a cost of 19 deaths on their own side, and were awarded the victory
The most vivid, (and imaginative), account of the incident was written by Sir Walter Scott, in The Fair Maid of Perth:
"The trumpets of the King sounded a charge, the bagpipes blew up their screaming and maddening notes, and the combatants, starting forward in regular order, and increasing their pace, till they came to a smart run, met together in the centre of the ground, as a furious land torrent encounters an advancing tide. Blood flowed fast, and the groans of those who fell began to mingle with the cries of those who fought. The wild notes of the pipes were still heard above the tumult and stimulated to further exertion the fury of the combatants. At once, however, as if by mutual agreement, the instruments sounded a retreat. The two parties disengaged themselves from each other to take breath for a few minutes. About twenty of both sides lay on the field, dead or dying; arms and legs lopped off, heads cleft to the chin, slashes deep through the shoulder to the breast, showed at once the fury of the combat, the ghastly character of the weapons used, and the fatal strength of the arms which wielded them."