Latest News
The Stewart Society newsletter
If you receive the newsletter by email then you should have been sent the link. If you've not received it then please contact the Secretary.
Posting Overseas
The Newsletter has just gone out to members overseas who receive by post. Please accept our apologies for this delay that was entirely outwith our control.
Membership
Please renew your membership now.
Annual membership is from January to December each year. The easiest way to do it is here on the website. Contact the Secretary if you are not sure if you need to do or if you would like to set up a standing order or pay directly into our bank account.
If you are not a member and you are just browsing our website please join us - we welcome members from all over the world. You can join here
Wold you like to give someone a gift membership? Email the secretary and she can arrange for a certificate .
Do you want a lovely certifiate of membership? These make excellent presents for weddings/significant birthdays/anniversaries.
Posting Overseas
Please note that due to a cyber incident affecting the Royal Mail we are currently unable to post shop orders, magazines or newsletters overseas. As soon as this is corrected then we will post these items again.
For more information please refer to More information on posting Overseas
Commissioners
We are looking for members who can attend events, welcome new people to the Society and recruit new members.


Do you live in : -
Oklahoma Arkansas Louisiana, Mississippi?
USA North West and Central?

Ohio-Pennsylvania & West Virginia?

British Columbia Yukon & NW Territories?
We are looking for a Commissioner to represent the Society in those places - if you are interested please contact the Commissioner's secretary - email Sandy Stewart of Ardvorlich here Sandy Stewart of Ardvorlich' s email


As events open back up in Scotland, we would also welcome members to attend Higland Games and other events to represent the Society and recruit new members.
Contact Jenn to discuss - email Jenn here
St Andrews Bursars 2022-23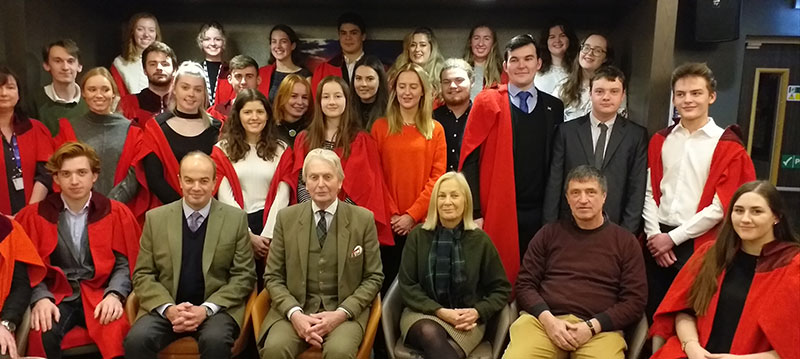 St Andrews Bursary students from 2019, in the centre left to right Stewart Society council member, Aubyn Stewart-Wilson, the President, Lord Stewart, his wife, Lady Stewart and Stewart Society Council member, John Lansley.
We look forward to meeting the St Andrews Bursary students on Thursday 9 February 2023 in Beacons Bar, St Andrews Students' Union at 5.30pm,
If you are a Stewart/Stuart student elsewhere and you wish to apply for a busary please email info@stewartsociety.org to discuss your application. Please note that, although bursaries are rarely granted on the grounds of hardship alone, hardship will be considered as a factor in any application.
Members' Downloads
Available for download
*New*
The 2021 Online Burns Supper
- Index of the Magazine volumes
The library catalogue and a list of the family trees and other family information that we hold are also available
Death of former Archivist and Secretary, Muriel Walker
The Society is very sorry to announce that Muriel Walker, long time Secretary and afterwards Archivist of the Stewart Society died on November 19. Muriel contributed an enormous amount to the Stewart Society during the many years that she was involved in it.
Much loved mother to Graeme and Nicola and a dear grandma of Kirsty, Iain, Lindsay, Ruaridh and Joanna, and great-grandma of Kaleb, Sadie, Isla and Ottilie.
Bannockburn Genetic Genealogy Project
The University of Strathclyde have provided some very interesting results relating to individuals who share the same common ancestor - including Walter, the High Steward. Read more about the Bannockburn Genetic Genealogy Project and how to go about your own DNA test.
Marker for male line descendants of King Robert III (1337-1406):
The results of the Big Y test for a documented male line descendant of Sir John Stewart of Blackhall & Ardgowan, d. c.1412, an illegitimate son of King Robert III, have now been received and analysed. Alex Williamson, author of The Big Tree http://www.ytree.net/ has identified a new SNP carried by this individual, which has been given the name ZZ52. Our two other Big Y test results, that is one for Earl Castle Stewart, a descendant of Robert Stewart, Duke of Albany, and the other for a documented descendant of Sir John Stewart, Sheriff of Bute, do not carry this SNP. Robert Stewart, Duke of Albany, and Sir John Stewart, Sheriff of Bute are both brothers of King Robert III. This means that ZZ52 must have occurred in Robert III or one of his male line descendants. In other words, ZZ52 is a distinct marker identifying descendants of Robert III.
Trustees
The Trustees of the Benevolent Fund are:- Lord Stewart (2020) - chair
Earl of Moray (2021), Annie Stewart (2021),
Catherine Maxwell-Stuart (2021, Earl of Galloway (2020)


The Trustees of the Heritage Trust are:-
Earl of Moray - (2020) chair Lachlan Stewart (2021)
Catherine Maxwell-Stuart (2021), Guthrie Stewart (2020)
The 2021 Accounts are available on the members' downloads.
Events
Council of the Stewart Society
The next meeting of the Council of the Stewart Society will be Thursday March 23 at 53 George St, Edinburgh.
The meetings of Benevolent Fund and Heritage Trust will also take place that day.
Papers will be sent to all members and trustees.
London Dinner
Booking is open for the London Dinner of the Stewart Society Thursday 25 May at Caledonian Club.
London Dinner Booking form
Guest of Honour will be Lieutenant General Andrew Graham, late of the Argyll and Sutherland Highlanders who will speak about the Regiment, with its many Stewart links. Please complete the form by Thursday 11 May 2023
Library Visits
We are pleased to say that we welcome visits to the Stewart Society again by members, researchers and Stewarts/Stuarts on Wednesday and Thursdays. Please email Jenn to check she is available.
You can also get in touch with Jenn and ask her advice on your research or see if she can find a particular article or book via email. Please be patient as Jenn is not in the office all the time so it may take a few days to answer a query or find something you are looking for.
Researchers if you have an urgent query do get in touch and Jenn will try to help you
Useful Links
Want help looking for your Stewart ancestors?
Try these links first. All helpfully gathered together in one place. Updated regularly so keep checking
Want to know more about the real history of tartan? Who wore what and when? How the Stuarts used tartan to help them with the Jacobite cause?