Latest News
Office Closure
The office will be closed for the Easter weekend - Good Friday, 19th and Easter Monday 22nd April
The Stewart Gathering 2019
We are very happy to be going to Elgin in 2019 for our Gathering on 7-9 September. You and your friends and family are most welcome to join us there for an excellent weekend celebrating our Stewart Heritage. For more information and to book the Stewart Gathering 2019 or contact the office for a booking form.
We have reserved some rooms at the Royal Hotel contact them directly to make your booking.
You can see previous Gatherings in our photo gallery.
Membership Renewal
Please renew your membership now. If you do not do so by the 30th of April 2019 then your record must be delted. Please don't lose touch with us! Renew your membership now.
The easiest way to renew your membership is the online Stewart Society Membership Form When you fill out your form check all your details are up to date and if you don't already please consider getting the newsletter by email.
If you are unsure whether you need to renew or how much you need to pay email the Secretary Jenn's email.
Gordon Stewart Piping Composition Competition
The Stewart Society, in conjunction with our partner organisation, Fèis Rois, would like to invite entries for a pipe tune competition. We are inviting composers to write a pipe tune that is inspired either by someone who bears the name Stewart or by some aspect of Stewart history.
The competition closes on the 30th of June and the judges decision is final You may submit one entry only
There is a prize of £500 and you would be invited to join the Stewarts at their Gathering in Elgin in September to play the winning composition. For more information and an entry form, contact The Secretary .
St Andrews Bursars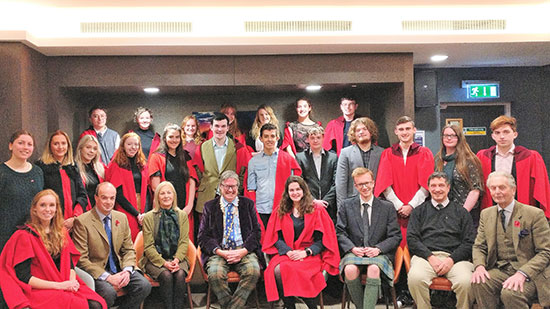 We were very pleased to meet the St Andrews Bursars for 2018/19 in an informal ceremony on the 6th of November 2018 at the Student Union. The Stewart Society was represented in force, by the President. Geordie Burnett Stuart (centre) , John Lansley, Lord Stewart (to the right of the picture); on the President's left, Lady Stewart and Aubyn Stewart-Wilson.
Copley Portraits
These magnificent portraits of Duncan Stewart of Ardsheal and Appin and his wife, Anne Erving by John Singleton Copley are now on loan to Scone Palace, Perth and can be seen there in the Ambassador's room.
Members' Downloads
Available for download - is the Index of the Magazine volumes 1-19. Further volumes will be coming soon
The library catalogue and a list of the family trees and other family information that we hold are also available
Bannockburn Genetic Genealogy Project
The University of Strathclyde have provided some very interesting results relating to individuals who share the same common ancestor - including Walter, the High Steward. Read more about the Bannockburn Genetic Genealogy Project and how to go about your own DNA test.
Marker for male line descendants of King Robert III (1337-1406):
The results of the Big Y test for a documented male line descendant of Sir John Stewart of Blackhall & Ardgowan, d. c.1412, an illegitimate son of King Robert III, have now been received and analysed. Alex Williamson, author of The Big Tree http://www.ytree.net/ has identified a new SNP carried by this individual, which has been given the name ZZ52. Our two other Big Y test results, that is one for Earl Castle Stewart, a descendant of Robert Stewart, Duke of Albany, and the other for a documented descendant of Sir John Stewart, Sheriff of Bute, do not carry this SNP. Robert Stewart, Duke of Albany, and Sir John Stewart, Sheriff of Bute are both brothers of King Robert III. This means that ZZ52 must have occurred in Robert III or one of his male line descendants. In other words, ZZ52 is a distinct marker identifying descendants of Robert III.
Events
Council Meeting
The next Council meeting is on Tuesday 30th of April 2019. The 2018 report to the Council is now available on members' download page.
The AGM is on the 7th of September 2019.
The London Dinner 16th May 2019
The London Dinner of the Stewart Society will be on the 16th of May 2019 at the Caledonian Club. We are very lucky to have Dr Akkerman as our speaker. She is the Reader in early modern English Literature at Leiden University and a Visiting Fellow at All Souls College, Oxford. She is the author of the critically acclaimed Invisible Agents: Women and Espionage in Seventeenth-Century Britain (OUP), and of The Correspondence of Elizabeth Stuart, Queen of Bohemia (OUP), the third and final volume of which will be published in 2020, and is currently writing the definitive biography of Elizabeth Stuart, again for Oxford University Press. She will be talking about the role of 17th century women in espionage Bookings are now open. London Dinner booking form
London members should have received an email or will receive an invitation by post. If not, please contact Beatrix Stewart London Chair email
Commemoration of the Battle of Glen Shiel 1719 7-9 June 2019
Organised by the Association of Highland Clans and Societies and the 1745 Association(limited places)
Friday guided visit to Culloden & Moy Friday evening - speakers - The Early Jacobite Risings in context
Saturday - Kintail Day & Commemoration of Glenshiel
Saturday evening Ceilidh
Sunday - Kirking of the tartan
More details and booking form in February 2019 for members. You should have received an email with more details. Please get in touch if you have not received a booking form and you would like one.
Culloden Weekend
Friday 12th April - Association of Highland Clans and Societies
Annual Lecture Glen Mhor Hotel, Inverness
THE JACOBITE ARMY REVEALED – What they really looked like by Jenn Scott,
Secretary of the Stewart Society and author of Better is the Proud Plaid, The Clothing, Weapons & Accroutements of the Jacobites in the '45
For details on how to book contact Jenn
Saturday 13th April - Culloden Service by the Gaelic Society of Inverness at Culloden Battlefield
Meet at 10.30am at the visitors' centre.


Useful Links
Want help looking for your Stewart ancestors?
Try these links first. All helpfully gathered together in one place. Updated regularly so keep checking
Want to know more about the real history of tartan? Who wore what and when? How the Stuarts used tartan to help them with the Jacobite cause?