Latest News
Office Closure
The office will be closed wednesday 11 July - Monday 16 july
Please note that on other dates our Secretary and archivist may be working from home. Please check before visiting to avoid disappointment
The Stewart Gathering 2018 - still a few spaces left!
Book now to ensure your place.
The President invites you, your friends and family to join him at the Stewart Gathering 2018 in St Andrews, Fife on 3-5 August. All details of the weekend are on the booking form. Special prices for students and young people. Spaces still available. Please book by 6th of July to ensure your place
Please note the President's reception is now fully booked


You can book the Gathering via our online booking form. You can see previous Gatherings in our photo gallery.
The Stewarts Library Catalogue
The library catalogue is now online and can be accessed by members in the download section of the members' area.
The Stewarts
The annual magazine & summer newsletter are out. We apologse and due to an error in type setting. Peter Pinniski's fascinating article is not all it should be. To correct that we have made a correct version available in the members' download section on the website so you can down load it and read it.
If you require extra copies of the magazine then it is £5 plus P&P or you can pick an extra copy up from the office.
There are some copies of previous years available to buy at £3 (not all years please check) or specific articles can be sent as pdfs or photocopies to members and interested researchers. There may be a small charge for postage to non-members. Ask the secretary about magazines.
Pictures (of the Gathering, your Stewart events and so on) and articles are welcome for both the summer Newsletter and the magazine . Please send anything to the secretary as soon as possible.
Bannockburn Genetic Genealogy Project
The University of Strathclyde have provided some very interesting results relating to individuals who share the same common ancestor - including Walter, the High Steward. Read more about the Bannockburn Genetic Genealogy Project and how to go about your own DNA test.
Marker for male line descendants of King Robert III (1337-1406):
The results of the Big Y test for a documented male line descendant of Sir John Stewart of Blackhall & Ardgowan, d. c.1412, an illegitimate son of King Robert III, have now been received and analysed. Alex Williamson, author of The Big Tree http://www.ytree.net/ has identified a new SNP carried by this individual, which has been given the name ZZ52. Our two other Big Y test results, that is one for Earl Castle Stewart, a descendant of Robert Stewart, Duke of Albany, and the other for a documented descendant of Sir John Stewart, Sheriff of Bute, do not carry this SNP. Robert Stewart, Duke of Albany, and Sir John Stewart, Sheriff of Bute are both brothers of King Robert III. This means that ZZ52 must have occurred in Robert III or one of his male line descendants. In other words, ZZ52 is a distinct marker identifying descendants of Robert III.
St Andrew's Stewart Bursars 2017/18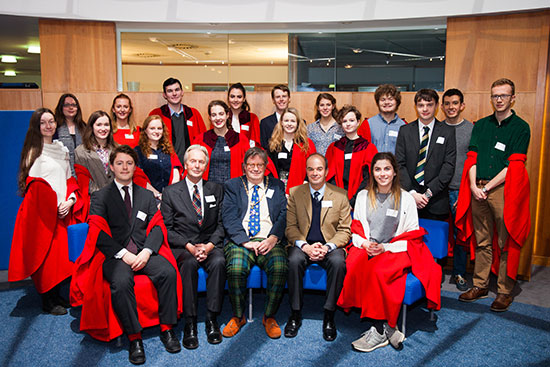 The St Andrew's Bursars for the academic year 2017/18
The picture shows. the President, Geordie Burnett-Stuart, Vice President, Lord Stewart and Council member Aubyn Stewart-Wilson meeting the bursars. In November of 2017. The Stewart Society Benevolent Fund supports Stewart students at St Andrew's University with a small grant each year.
Small grants may also be available for Stewart/Stuart students at other universities and institutions seeking to further their studies through travel, additional studies or other means.
Please apply for further details to the secretary
Events
Council Meeting
The next Council meeting is on 24th October 2018.
The AGM is on 4th August at 6.45pm at the Byre Theatre, St Andrews.
The Stewart Society Library
The Society has an extensive library of books, artefacts and papers related to the Stuarts/Stewarts and Scottish history as well as genealogical research at our offices in George St, Edinburgh.
We would be very happy to see you here and the library is available to any member by appointment. Please let me know if you looking for anything in particular in advance so I can look it out! Make an appointment with the Secretary by email or call 0131 220 4512
Useful Links
Want help looking for your Stewart ancestors?
Try these links first. All helpfully gathered together in one place. Updated regularly so keep checking
Want to know more about the real history of tartan? Who wore what and when? How the Stuarts used tartan to help them with the Jacobite cause?