History of the Stewarts
| Famous Stewarts
If you are a Stewart Society Member please login above to view all of the items in this section. If you want general information on how to research your ancestors and some helpful links - please look in background information.
If you have a specific question you can contact our archivist.
Robert Stewart or Stuart
4th Lord of Aubigny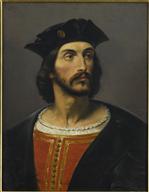 Robert Stewart (or Stuart) (c. 1470–1544), Lord of Aubigny, Count of Beaumont-le-Roger, was a French soldier belonging to the family of Stewart of Darnley.
Robert was the fourth son of John Stewart, 1st Earl of Lennox and Margaret Montgomerie. He inherited the Lordship of Aubigny through his marriage to his cousin Anne Stewart, daughter of Bernard Stewart, Lord of Aubigny (died 1508).
Stewart began his military career in 1493 when he joined the Garde Écossaise of King Charles VIII of France. He served with Bernard in Italy in Charles VIII´s Italian War and later in that of Louis XII under Trémoille.
He was made Marshal of France in 1514, reconfirmed by Francis I the following year. During the skirmishing leading to the Battle of Marignano in 1515 his soldiers under Jacques de la Palice surprised and captured the Papal commander Prospero Colonna in a daring cavalry raid behind enemy lines. He also fought at the Battle of Pavia in 1525. He died in March of April 1544