History of the Stewarts
| Famous Stewarts
If you are a Stewart Society Member please login above to view all of the items in this section. If you want general information on how to research your ancestors and some helpful links - please look in background information.
If you have a specific question you can contact our archivist.
King Robert II of Scotland - The First Stewart King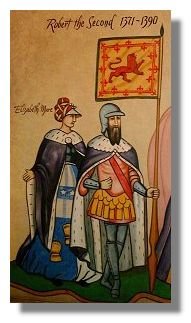 Robert II was born under less than royal circumstances, his birth having been brought on it seems by his mother´s fall from a horse. It is probable that he was delivered in Paisley. Some accounts have him being delivered and his mother, Marjory dying immediately afterward however it is generally thought now that she survived for as much as 18 months after the birth. It also seems unlikely that it was a caesarean birth as has sometimes been suggested.
He was declared heir presumptive to the throne, in default of male issue of his maternal grandfather, Robert the Bruce, by a Parliament held at Scone, 3 December 1318. He succeeded his father as 7th High Steward, 9 April 1326, and was guardian of the realm from 1338 to 1341 and again from 1346 till 1357, during the reign of his half-uncle, David II who was born in 1324. During David´s reign he was one of the most important men in the kingdom along with the Randolphs and Douglases. On the 19 July - at 16 - he took part in Halidon Hill. He thereafter passed to the Isle of Bute and from there in 1334, he retook the castle of Dunoon, in Cowal, and invaded his territories of Renfrew
compelling the inhabitants to acknowledge the young King David as rightful heir to the Scots throne. He succeeded to the office of Regent of Scotland in 1338 upon the death of Sir Andrew Moray, and laid siege to the city of Perth which
capitulated to him on 13 August 1339. The surrender of of Stirling followed later that same year and so successful had was his campaign that no English garrisons remained north of the Forth and so secure was the country that in 1341 King David was able to return from France unhindered and with no threat of capture. At the battle of Durham on 17 October 1346 he commanded the left wing of the Scots army and although he managed to effect an escape from the field the King was taken captive and thus he again assumed the office of Regent until David's release in 1357. Then in 1334 Robert only just escaped by boat to Dumbarton Castle as his western lands were over run by his enemies. However whilst David went into exile in France, Robert stayed to fight and with the Campbells of Lochawe, fought a campaign to recover some of the castles and land around the Clyde and in the southwest of Scotland. Robert continually challenged David´s authority during his reign and whilst David was able to some degree curb Robert´s ambitions he couldn´t completely break him as David had no sons and therefore no heir except Robert furthermore Robert had proved to be very fertile.
He had to wait until David´s death on 22 February 1371, before he inherited the throne; he was crowned at Scone by the hand of William de Landallis, Bishop of St. Andrews, on 26 March.
David was buried at Holyrood Abbey almost immediately but an armed protest by William, Earl of Douglas delayed Robert II´s coronation until 26 March 1371.The reasons for the incident remain unclear but may have involved a dispute regarding Robert´s right of succession or may have been directed against George Dunbar, Earl of March and the southern Justiciar, Robert Erskine. It was resolved by Robert giving his daughter Isabella in marriage to Douglas´s son, James and with Douglas replacing Erskine as Justiciar south of the Forth.
Following Robert´s accession to the throne, the Stewarts greatly increased their holdings in the west, in Atholl and in the far north: the earldoms of Fife and Menteith went to Robert II´s second surviving son Robert, the earldoms of Buchan and Ross (along with the lordship of Badenoch) to his fourth son Alexander and the earldoms of Strathearn and Caithness to the eldest son of his second marriage, David. King Robert´s sons-in-law were John MacDonald, Lord of the Isles, John Dunbar, Earl of Moray and James who would become the 2nd Earl of Douglas. Robert´s sons, John, earl of Carrick, the king´s heir, and Robert, Earl of Fife, were made keepers of the castles of Edinburgh and Stirling respectively, while Alexander, Lord of Badenoch and Ross and afterwards Earl of Buchan, became the king´s Justiciar and lieutenant in the north of the Kingdom. This build-up of the Stewart family power did not appear to cause resentment among the senior magnates. This style of kingship was very different from his predecessor´s—David tried to dominate his nobles whereas Robert´s strategy was to delegate authority to his powerful sons and earls and this generally worked for the first decade of his reign. Robert II was to have influence over eight of the fifteen earldoms either through his sons directly or by strategic marriages of his daughters to powerful lords.
By 1375, the king had commissioned John Barbour to write the poem, The Brus, a history intended to bolster the public image of the Stewarts as the genuine heirs of Robert I. It described the patriotic acts of both Sir James, the Black Douglas and Walter the Steward, the king´s father, in their support of Bruce. Robert II´s rule during the 1370s saw the country´s finances stabilised and greatly improved due in part to the flourishing wool trade, reduced calls on the public purse and by the halting of his predecessor´s ransom money on the death of Edward III of England
Robert backed the growing successful Scottish militancy following Edward III´s death in 1377. In a charter dated 25 July 1378 the king decreed that Coldingham Priory would no longer be a daughter house of the English Durham Priory but was to be attached to Dunfermline Abbey. In early February the Scots—apparently unaware of the conclusion of an Anglo-French truce on 26 January 1384 that included the Scots in the cease-fire—conducted an all-out attack on the English zones winning back the previously English held Lochmaben Castle and Teviotdale. John of Gaunt led a reciprocal English attack that took him as far as Edinburgh where he was bought off by the burgesses but destroyed Haddington. On 2 June 1384, Robert resolved to send Walter Wardlaw, Bishop of Glasgow to the Anglo-French peace talks yet Carrick ignored this and allowed raids into the north of England to take place. Despite this by 26 July the Scots were part of the truce that would expire in October. .
John, earl of Carrick, had become the foremost Stewart magnate south of the Forth just as Alexander, Earl of Buchan was in the north. Alexander´s activities and methods of royal administration, enforced by Gaelic mercenaries, drew criticism from northern earls and bishops and from his younger half-brother David, Earl of Strathearn. These complaints damaged the king´s standing within the Council as they lead to criticism of his ability to curb Buchan´s activities. Robert´s differences with the Carrick affinity regarding the conduct of the war and his continued failure or unwillingness to deal with Buchan in the north led to the political convulsion of November 1384 when the Council removed the king´s authority to govern and appointed Carrick as lieutenant of the kingdom—a coup d'état had effectively taken place.With Robert sidelined, there was now no impediment in the way of war. In June 1385, a force of 1200 French soldiers joined the Scots in a campaign that involved the Earl of Douglas and two of Robert´s sons, John, Earl of Carrick and Robert, Earl of Fife.The skirmishes saw small gains but a quarrel between the French and Scottish commanders saw the abandonment of an attack on the important castle of Roxburgh.
The victory of the Scots over the English at the Battle of Otterburn in Northumberland in August 1388 set in motion Carrick´s fall from power. One of the Scottish casualties was Carrick´s close ally James, Earl of Douglas. Douglas died without an heir, which led to various claims upon the title and estate—Carrick backed Malcolm Drummond, the husband of Douglas´s sister, while Fife sided with the successful claimant, Sir Archibald Douglas, lord of Galloway who possessed an entail on the Douglas estates. Fife, now with his powerful Douglas ally, and those who supported the king ensured a counter-coup at the December Council meeting when the guardianship of Scotland passed from Carrick. Many had also approved of Fife´s intention to properly resolve the situation of lawlessness in the north and in particular the activities of his younger brother, Buchan. Fife relieved Buchan of his offices of lieutenant of the north and justiciar north of the Forth—the latter role was given to Fife´s son, Murdoch Stewart. Robert II toured the north-east of the kingdom in late January 1390 perhaps to reinforce the changed political scene in the north following Buchan´s removal from authority. In March, Robert returned to Dundonald Castle in Ayrshire where he died on 19 April and was buried at Scone on 25 April
Robert II was twice married and had 6 sons (including John who on his succession to the throne takes the name Robert III) and 8 daughters by his two wives and at least 8 illegitimate children by various mistresses. In 1336, he first married Elizabeth Mure, daughter of Sir Adam Mure of Rowallan. The marriage was criticized to be uncanonical, so he remarried her in 1349 after receiving a papal dispensation in 1347.
From this union, ten children reached adulthood:
John (died 1406), who became King of Scotland as Robert III, married Anabella Drummond
Walter (died in 1363), husband of Isabella MacDuff, Countess of Fife.
Robert, Earl of Fife and from 1398 Duke of Albany (died 1420), married in 1361 Margaret Graham, Countess of Menteith, and his second wife in 1381 Muriella Keith (died in 1449).
Alexander Stewart, Earl of Buchan (died 1405), nicknamed "The Wolf of Badenoch", married in 1382 to Euphemia of Ross
Margaret, married John of Islay, Lord of the Isles
Marjorie, married John Dunbar, Earl of Moray, then Sir Alexander Keith.
Elizabeth married Thomas de la Hay, Lord High Constable of Scotland
Isabella (died 1410), married James Douglas, 2nd Earl of Douglas (died in 1388), followed in 1389 by David Edmonstone.
Johanna (Jean), married Sir John Keith (died 1375), then John Lyon, Lord of Glamis (died 1383) and finally Sir James Sandilands
Katherine, married Sir Robert Logan of Grugar and Restalrig, Lord High Admiral of Scotland
In 1355, Robert married his second wife Euphemia de Ross , daughter of Hugh, Earl of Ross. They had four children:
David Stewart, Earl of Strathearn, born about 1356 and died in 1389.
Walter Stewart, Earl of Atholl, born about 1360, beheaded at Edinburgh in 1437 for being involved in the assassination of King James I.
Elizabeth, who married in 1380 David Lindsay, 1st Earl of Crawford.
Egidia, who married in 1387 William Douglas of Nithsdale.
King Robert II has also many illegitimate children with several mistresses, including four sons with his favorite Mariota Cardeny, daughter of Sir Cardeny, and widow of Alexander Mac Naugthon:
Alexander Stewart, of Inverlunan
Sir John Stewart, of Cardeny
James Stewart, of Abernethy and Kinfauna
Walter Stewart
Other issue born by unknown women:
John Stewart, sheriff of Bute
Thomas Stewart, archdeacon of St Andrews
Alexander Stewart, canon of Glasgow
Maria or Mary Stewart, wife of Sir John de Danielstoun and mother of Sir Robert de Danielstoun of that Ilk (ancestor of Cunningham of Kilmaurs, and Maxwell of Calderwood)