History of the Stewarts
| Famous Stewarts
If you are a Stewart Society Member please login above to view all of the items in this section. If you want general information on how to research your ancestors and some helpful links - please look in background information.
If you have a specific question you can contact our archivist.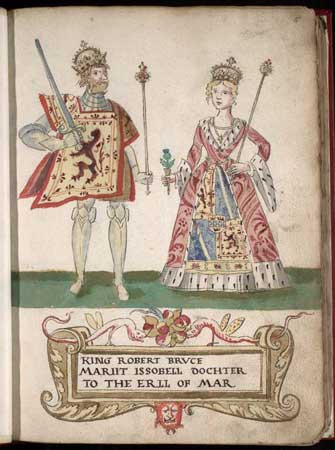 Isabella of Mar(c. 1277 – 12 December 1296) was the first wife of Robert the Bruce and the grandmother of Robert II of Scotland, founder of the royal House of Stuart. She died before Robert was crowned King of Scots, and never became Queen.
She was the daughter of Domhnall I, Earl of Mar and a woman named Helen (or Ellen) (1246–1295), the illegitimate daughter of Llywelyn ab Iorwerth ("the Great") Prince of Wales, she had previously been the wife of Maol Choluim II, Earl of Fife. Her father was one of the seven guardians of Scotland who believed Robert Bruce to be the rightful King of Scotland. Despite the considerable risks, the Earl of Mar could see the advantage of the two families joining in marriage and bearing an heir to the throne, and the marriage of Isabella and Robert was arranged. Mar was the first to sign over the estates of his family to the Bruce.
Isabella was married to Robert at the age of 18 and legend has it that they were much in love. Shortly after their marriage Isabella became pregnant. She had a healthy pregnancy but she died soon after giving birth to a daughter, Marjorie Bruce in 1296. Following her death, Isabella of Mar was buried at the Cluniac Paisley Abbey. Her tomb has not survived .
Robert married his second wife, Elizabeth de Burgh, six years later. Isabella´s daughter Princess Marjorie (died 1316) married Walter Stewart, 6th High Steward of Scotland, and their son became Robert II of Scotland. From him descend the monarchs of the House of Stewart and the later royal families of the United Kingdom.