Latest News
The Stewart Society Gathering 9-11 August 2017
The President has confirmed that next year's Stewart Gathering will be held in Orkney. There are a great many Stewart links in Orkney and some magnificient archaelogy so we look forward to seeing you there next year. If you are interested then please let the office know and we will make sure you are informed as soon as booking is available email Jenn here.
The Stewart Highland Games 8th July 2017
More family fun and games at Ballone. Beer tent, food, fun for all the family. Open to everyone.
The Stewarts at the Edinburgh Royal Military Tattoo 18th August 2017
The President invites all Stewart Society members, friends and family to join him for this very special performance of the Tattoo. You can book up to 8 early bird tickets for this performance now . More details in the newsletter or contact the Secretary for the priority booking link and society password.
The Gordon Stewart Memorial Composition competition 2017
The Stewart Society Benevolent fund is once again running its biannual competition open to all to compose a short piece on the fiddle in 2017. The winner will receive a cash prize and an invite to the Highland Games to receive their prize. More details and how to enter will be available soon
Bannockburn Genetic Genealogy Project
The University of Strathclyde have provided some very interesting results relating to individuals who share the same common ancestor - including Walter, the High Steward. Read more about the Bannockburn Genetic Genealogy Project and how to go about your own DNA test.
Marker for male line descendants of King Robert III (1337-1406):
The results of the Big Y test for a documented male line descendant of Sir John Stewart of Blackhall & Ardgowan, d. c.1412, an illegitimate son of King Robert III, have now been received and analysed. Alex Williamson, author of The Big Tree http://www.ytree.net/ has identified a new SNP carried by this individual, which has been given the name ZZ52. Our two other Big Y test results, that is one for Earl Castle Stewart, a descendant of Robert Stewart, Duke of Albany, and the other for a documented descendant of Sir John Stewart, Sheriff of Bute, do not carry this SNP. Robert Stewart, Duke of Albany, and Sir John Stewart, Sheriff of Bute are both brothers of King Robert III. This means that ZZ52 must have occurred in Robert III or one of his male line descendants. In other words, ZZ52 is a distinct marker identifying descendants of Robert III.
New book on the Stewarts
Two Society members, ex- President Henry Steuart-Fothringham and Dr Charles Bradbury have written a book about the Stewarts. Stewart Heritage is a fully-illustrated world guide to Stewart men and women past and present.
A modern pictorial history of Scots men and women and their descendants, at home and abroad, from the Middle Ages to the present day, as seen through the lives and achievements of Scotland's most important family: the STEWARTS.
The book can be ordered here Stewart Heritage book

Stewart Newsletter
Has your address or email changed? Please let Jenn know now on info@stewartsociety.org or call (44) 0131 220 4512 if it has so you can receive the winter Newsletter.
St Andrew's Stewart Bursars 2015/16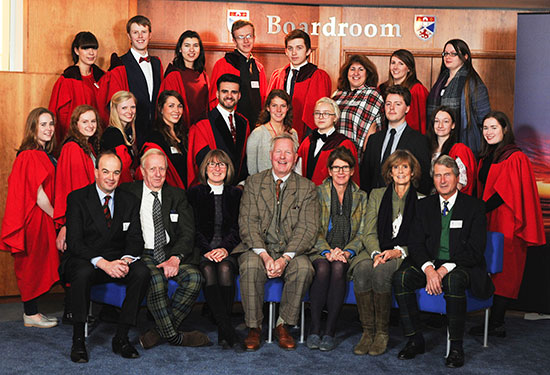 The St Andrew's Bursars for the academic year 2015/16 are shown here with Aubyn Stewart-Wilson, Robert Stewart of Blackhouse, Vice Principal of St Andrew's Laura Milne, Society President, Lachlan Stewart, Annie Stewart, Kim Stewart and David Stewart of Achara of the Stewart Society.
It was very good to meet the St Andrews Bursars for 2016/17 on Tuesday 15th November. New photograph to follow as soon as we have it..
The Stewart Society Benevolent Fund supports Stewart students at St Andrew's University with a small grant each year.
Small grants may also be available for Stewart/Stuart students at other universities and institutions seeking to further their studies through travel, additional studies or other means.
Please apply for further details to the Secretary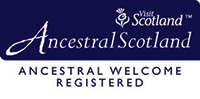 Events
The next Council Meeting
The next meeting of the Council of the Stewart Society will be Thursday 20th April 2017 at The Stewart Society, 53 George St, Edinburgh
There will be meetings of Heritage & Benevolent the same day.
The AGM of the Stewart Society will take place in Edinburgh on the 18th of August 2017.
The Stewart Society Library
The Society has an extensive library of books, artefacts and papers related to the Stuarts/Stewarts and Scottish history as well as genealogical research at our offices in George St, Edinburgh.
We would be very happy to see you here and the library is available to any member by appointment. Please let me know if you looking for anything in particular in advance so I can look it out! Make an appointment with the Secretary by email or call 0131 220 4512
Please note the office will be closed on Friday 2nd December for annual leave.
Useful Links
Want help looking for your Stewart ancestors?
Try these links first. All helpfully gathered together in one place. Updated regularly so keep checking
Want to know more about the real history of tartan? Who wore what and when? How the Stuarts used tartan to help them with the Jacobite cause?